'Countdown' is a horror movie about the nightmare of user agreements
Director Justin Dec reveals the utterly normal origins of his supernatural smartphone film.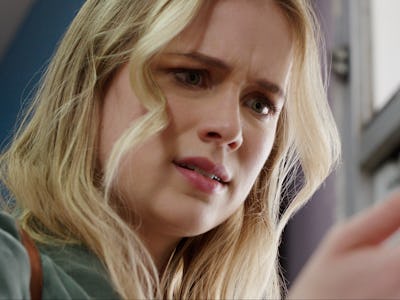 STX
Film director Justin Dec has 40 years left to live. At least, that's what it says on an app inspired by his first feature film, Countdown. "I know it's a fun game. But truth is, I never want to know," Dec tells Inverse. "I'd rather live a nice life not knowing when it's gonna end."
In Countdown, an indie horror flick now in theaters, a supernatural smartphone app runs a timer that ends at the moment the user dies. This is a huge problem for a nurse, Quinn (Elizabeth Lail, Once Upon a Time) who activates the app and finds she has only two days to live. Thus begins an odyssey that sees Quinn try to delete, hack, and even cheat the ticking clock.
But as the film comments, she probably could have avoided all these problems if she'd only read the user agreement.
"I am fearful of how little we take things seriously in the 21st century.
"I am fearful of how little we take things seriously in the 21st century," says Dec. "There are enormous contracts we agree to. It's never been like this, ever. Anytime a contract was put in front of someone you'd have a lawyer read it. And now we're just like, 'Agree, agree, agree.' I don't read them. Who has the time? But anybody can sneak anything into those."
In an amusing twist, the film's trailer, released over the summer, inspired an app designer, Ryan Boyling, to recreate the demonic clock for real. Yes, it has a user agreement. No, it doesn't actually know when you die (at least I hope). But just like in the movie, "Countdown" has gone viral; it is currently the number one Entertainment app on the Apple App Store.
"How crazy is that?" Dec says. "Blows my mind. I did download it."
Countdown's big ideas — of death, fate, and the dangers of technology — were inspired by Dec using his phone in a "totally normal" way some three years ago. "I was setting a timer watching it tick, and I thought, 'What if it was ticking down to when I die? I know, totally normal thought."
The idea inspired a five-minute movie Dec shot in his apartment over three years ago. The short film impressed some producer friends, Zack Schiller and John Morris, who immediately began to finance the project into a full-length feature. Three years after Dec zoned out looking at his phone's timer, Countdown wrapped production following an abnormally tight 24-day schedule.
Dec imbued a lot of his personal anxieties towards 2019 technology into the movie.
"I'm afraid of what technology is doing to us," he says. "We're disconnecting in this race to connect. We're texting and Facebooking. We're not present. I go to events and see people holding up phones recording, more interested in people knowing they were there to get likes. I think getting people to affirm that you're doing the right thing doesn't help you."
He adds, "Technology can be dangerous. It's amazing how it empowers us to do things we've never been able to do, but we can't rely on it for social growth."
Fitting of the film's urgency, the story of Countdown heavily features a subplot involving an antagonist, Dr. Sullivan (Peter Facinelli), a sexual predator in a position of power that Quinn tries to throw into the app's path.
Dec says the character was written before alleged predator Harvey Weinstein and #MeToo became part of the public conversation. "Someone was going to have to live or die before the timer ran out. Dr. Sullivan was always going to be this character getting away with something we all know people get away with in power. It was written before the Weinstein scandal broke."
When Weinstein's story became public in 2017, Dec and the filmmakers of Countdown "had a panic moment." "We were like, 'Should we do this?' We stuck with it because it's a subject that matters to everyone. If we don't treat each other with respect it's going to continue to happen."
Ultimately though, there's only one big message in Countdown: Sometimes, just put the phone down. "It's fine to dabble, but you got to have balance," Dec says. "You don't know how much time you have left."
Countdown is in theaters now.