6 Laptop Cases That Really Keep Your Investment Safe
How much would it ruin your day to break your laptop? Get a good case for it, then!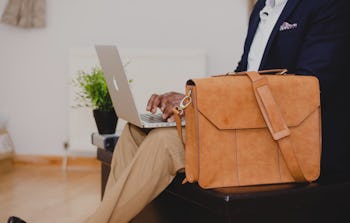 Unsplash / Adeolu Eletu
Not only did you spend a big chunk of your own hard-earned cash on that laptop but it holds the keys to your life. Your work, the poetry no one knows you write, the videos of your cat you can never replace, and your elaborate spreadsheets detailing the traits of Dungeons and Dragons characters you hope to play someday. That stuff is irreplaceable!
Are you really going to toss all of that into your car, into your backpack, or into your luggage unprotected and go, carelessly, into the world?
Go back everything up and then get back here and buy that laptop a sturdy case to will protect it from harm.
Look at that thing! Don't you feel safer already? It's got an edgy, handcuff-it-to-your wrist vibe and it's both shockproof and waterproof. That slick material will slide easily into another bag. The interior is soft and protective. It has room for your phone or a pad of paper so you can grab this thing and go. It's got a handle so it will serve as a solo bag. But you can also put it inside another, larger, bag for organization and additional protection.
This unassuming bag is super useful. It's got lots of padding and is waterproof so it will keep your laptop safe. It also has two exterior pockets to you can grab it and go to a meeting. You will also have your phone, notebook, pen, charger, and whatever else you need with you. It will slide easily into your luggage. And it is the rarest of all beast — if your laptop is a beast — in that it comes in a size large enough for a 17-inch laptop.
Traveling? Do you walk to work? This trim, padded laptop case from Case Logic has all the details you need to bring your laptop along.
The laptop goes into the center of the pack in a protective sleeve so it is protected from the elements and anything else that might happen to you in the world.
There is a soft, fuzzy pocket at the top for you to drop your sunglasses or phone into. And it has organized pockets to keep you moving through security or the city streets or wherever it is your day takes you.
Are you covert operative who tends to get dropped from a plane behind enemy line on a regular basis? Are you planning a trip to Antarctica? Attempting to walk the Appalachian Trail? If you are bucket-listing, your laptop will need some serious protection if you want to bring it with you. (Obviously you will need that!) That sort of rough and tumble is Pelican's raison d'etre. This case fits laptops up to 14 inches and protects them from just about everything: drops, water, being crushed in a fall from a plane, and etc.
Cases, you say, are all well and good for those who sit down in a tame environment to work. But you want protection when you are using your laptop. I present to you, this SUPCASE Unicorn Beetle case. It's a ruggedizer for your MacBook. You leave it on at all times so when you are out in the field tagging birds or consulting on the construction of that bridge, you won't have to set your naked laptop down on a wet rock, unprotected.
This bag has it all: It's comfortable to carry. Check out the chest straps that distribute the weight to your back and shoulders. (And they double as a sleeve to hold the pack to your rolling luggage.) It has super padded interior pocket for your laptop. The exterior side pockets will actually fit a normal sized water bottle because they stretch. And it's loaded with well-thought-out pockets and accessories.
You get what you pay for.