When do 'Star Wars: Rise of Skywalker' tickets go on sale? 
The final trailer for the ninth installment in the Skywalker saga drops tonight.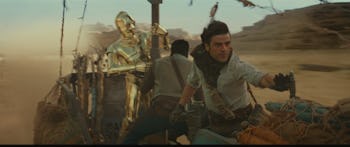 Lucasfilm
Loads of people who don't give a damn about football will be watching the Patriots vs. Jets game on ESPN tonight — and it has nothing to do with what happens on the field. Instead, Star Wars fans young and old will be glued to their TVs, smartphones and web browsers watching the latest trailer for The Rise of Skywalker, hoping to get a momentary glimpse of Emperor Palpatine or a hint of unsettling romance between Rey and Kylo Ren. Immediately after it airs, millions of fans will be looking to snag opening-night tickets for the final installment of the Skywalker saga. If you're wondering when and how to purchase tickets later tonight, we've got you covered.
Update: Rise of Skywalker tickets are on sale now! If you're interested in some opening-night collectibles, marathon screenings or IMAX showings, head to the official Star Wars site here for more details.
Fandango is the most obvious bet for ordering tickets, but that also means the site could be among the most likely to crash tonight once tickets become available. Presales for The Force Awakens back in 2015 caused the websites for Fandango, AMC and Alamo Drafthouse to crash due to massive demand.
There are plenty of resources online to get your tickets: Cinemark, AMC, Fandango, and Atom Movies are just a few. All of these sites have showtimes listed for the evening of December 19 and throughout the week The Rise of Skywalker hits theaters. You'll also be able to find showtimes and alternative locations on Google Search.
Pick a few options that work for you and your fellow moviegoers, and keep tabs open for the times you want. Once halftime begins, start refreshing those tabs. If you have a login for a particular chain, make sure you're signed into your account to make the checkout process as easy as possible. If you have your heart set on a particular theater or showtime, you might consider downloading the app for the theater chain or ticket reseller you prefer. You might still encounter an outage or delay in getting your tickets, but it's slightly less likely when using a standalone app.
Star Wars: The Rise of Skywalker comes to theaters December 20.