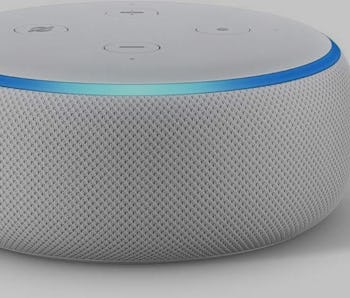 Innovation
5 Simple Tech Upgrades That Will Make A Big Difference
Small upgrades, big impact
Amazon
Looking to make some tech upgrades in your life but want to know what will make the biggest impact? Technology moves fast, so trying to upgrade as soon as a new version of something is out is not only expensive, it's unnecessary. Instead, focusing on what you don't already have and upgrades that will make the biggest difference in your life is key. Simply switching from a wired mouse to a wireless one isn't going to cut it.
Below, you'll find 5 simple tech upgrades that will make a big difference almost immediately.
Despite the privacy concerns around smart speakers, they're one of the easiest ways to liven up your home. Amazon, the pioneer in the smart speaker space, offers its Alexa assistant in a variety of devices, but it doesn't get as simple as the Echo Dot.
Not only is the Echo Dot small, it's also fairly cheap, making it the most affordable way to dive into Amazon's Echo-system. The 3rd generation of the Dot improves upon previous models in a handful of ways, including louder, richer sound.
Compared to the larger Echo devices, the smaller size of the Dot makes little difference when it comes to the functionality of Alexa. You can still add thousands of skills, ask questions, control your smart home and more.
Wireless Earbuds are a fad, they're becoming increasingly more popular and are one of your smartphone's best companions. Of course, you don't have to go out and buy Apple AirPods to get in on the action. In fact, you can spend at little as $50 to get a similar experience thanks to the TOZO T10 Wireless Bluetooth Earbuds.
The TOZO T10s boast specs that are normally found in $150+ earbuds, like Bluetooth 5.0, IPX8 water resistance, and wireless charging case. A single charge will last you around 3.5 hours, which isn't much to write home about bit it definitely long enough for your commute or trip to the gym. The charging case will give you an additional two charges as well.
If you're looking for a super simple upgrade that's practical but allows you to interact with everyday electric items in ways you never had before, a smart plug is in order. The Wemo Mini Smart Plug's sole purpose is to do just this.
Whether it's a fan, and drip coffee maker, or a lamp of some sort, the Wemo Mini allows you to control it from your phone or smart speaker. You can even set a schedule or timer for the length of time you want the item to be on, all controllable from within the Wemo app. Setup is as simple as naming the plug and connecting it your WiFi network, and you're good to go!
Simple doesn't always mean cheap, even if the value is there. And while throwing a couple of hundred dollars down for smart lights may sound ridiculous to you, it's easily one of the most impactful upgrades you'll ever make.
The Philips Hue White and Color Ambiance LED Smart Light Bulb Starter Kit runs about $150 and comes with three light bulbs. After that, you can find single light bulbs anywhere from ~$30-$50, depending on if there's a sale or not. While it's certainly an investment, there's little question that they'll change the way you interact with your home. You can easily control your lights from the app or smart assistant, set mood lighting to virtually any color you can think of. You can also set lighting schedules or have your lights automatically turn on when you're home or turn off when you leave.
After a few months of using the Philips Hue lights, physically turning on a light switch will seem like a choir.
Smart thermostats have been around for quite a few years now, but they're still gaining in popularity. The biggest name within the segment is the now Google-owned Nest Smart Learning Thermostat.
In a nutshell, the Nest allows you to control you to control heating and cooling with your phone or smart speaker, but that's not all. The Nest's real trick is its ability to learn your schedule and automatically adjust itself based on your previous patterns. While this sounds like it may be more convenient than helpful, it's not. This learning feature can allow you to save money on your electric bill.
There are a ton of smart thermostats out there, but the easiest one to pick up, install, and use is the Nest, and that'll likely remain true for the foreseeable future.