These 5 Accessories Are A Must for Tech-Obsessed People
Any self-respecting tech junkie needs these accessories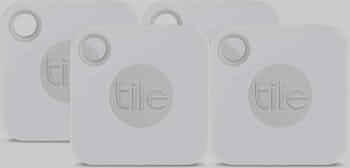 Amazon
Even with a $1000+ phone in your pocket, a technology enthusiast will tend to invest even more money in accessories to complete the package. A solid tech accessory setup not only makes your life easier but it can also get very expensive. To make matters worse there are more accessories available than what's truly needed, making the experience a muddled one.
If you're obsessed with tech, or just shopping for someone who is, these 5 accessories are must-haves.
If you're one to constantly misplace your keys, phone, or anything else you take with you, the Tile Mate was made for you. This is a very practical accessory that you probably won't be showing off to people, you'll be very happy you made the investment when you need it.
The Tile Mate is a small square with a sensor in it. You can add it to your keyring or whatever item you want to keep track of, and if you ever misplace it, you can find it with the companion application. It even works in reverse, so if you lose your phone, you can double tap on one of your Tiles to make your phone ring, even if it's on silent. Best of all, you won't have to keep buying Tiles in the long run — you can simply replace the battery.
The Anker PowerCore+ 26800 PD is for the power user on the go that regularly needs to recharge their tech before the end of the day and doesn't want to be stuck to a wall charger. This charging bring stands above the rest with a ton of power under the hood.
The Powercore+ has enough juice to charge the massive 43000 mAh battery on the Galaxy Note 10 Plus over 6 full times. Moreover, it also supports USB-C Power Delivery Fast Charging, allowing you to charge your device, including Macbooks. Of course, it will charge your standard USB devices that don't USB C, thanks to the two USB A ports.
With a battery size this large, it would be easy to imagine that it would take a very long time to recharge after it's dead. Not the case! Thanks to the PD fast charging, the Powercore+ will charge up to three times faster and reach from 0-100% in 4.5 hours.
##For the Light Traveler: Trswyop 7800mAh Portable Charging Case
If you don't want to be weighed down by a dedicated power brick, your next best option is a battery case for your phone. The Trswyop 7800mAh Portable Charging Case for the iPhone XS Max offers up nearly 200% additional battery life, as long as you don't mind the extra chunk.
Not only does this case bring you plenty of battery life, but also full protection of your phone. The bumper design of the caser ensures that your XS Max will be able to weather every day wear and tear without any sort of issue. The case also includes an internal security chip so that it won't short-circuit, overcharge, or overheat, keeping your phone safe.
It doesn't stop with the iPhone XS Max, either. Trswyop makes its charging cases available for several iPhone models at ridiculously affordable prices.
The wireless earbuds market has seen unprecedented growth over the past few years, and Sony, the current king of the noise-canceling headphones market, set its sights on the smaller earbud market this year. It's result was the Sony WF-1000XM3, an absolute stellar pair of earbuds.
The Sony WF-1000XM3 has a lot going on with it, and shares a ton of similarities to its larger, over the ear counterparts, including noise-cancelation. Not only do these buds do a great job at what they claim, there isn't a lot of competition doing what Sony's doing, so it already has a leg up.
With a sleek design, 6 hour battery life, and an additional 18 hours in the charging case, these are the earbuds to beat.
While smartwatches may not have taken off the way the industry expected them to when they were introduced a handful of years ago, one fact has always remained the same: The Apple Watch is the best smartwatch around. Apple's continued to extend its lead in the market with the Apple Watch Series 5.
The Apple Watch Series 4 was already a fantastic smartwatch, so how did Apple improve upon it with the Series 5? The biggest change comes in the form of a 30% larger, always-on display. Other new features include a built-in compass and new build materials, further refining the near-perfect smartwatch.
Android aren't completely left in the dark either. While the Apple Watch is only for iOS devices, Samsung Galaxy Watch Active 2 is about as slick as a watch can come, full of health features, and a touch sensitive bezel that makes navigating the softway a breeze.