Volvo's first electric car aims for gas car owners with a big incentive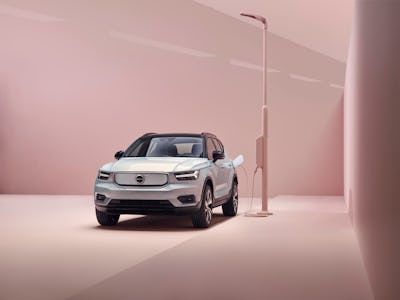 Volvo
Volvo unveiled its first all-electric car Wednesday, and it comes with a big bonus for buyers looking to make the jump away from internal combustion engines.
The XC40 Recharge, a compact sports utility vehicle set to start sales next year, is the first in a new series of fully-electric and plug-in hybrid cars. Volvo plans to launch a new fully-electric car every year over the next five years, as it aims to transition its global sales to reach 50/50 electric cars and hybrid vehicles by 2025.
As its first all-electric outing, Volvo is making a big push to encourage drivers to switch. The company told Wired that, as of Wednesday, consumers that buy a plug-in hybrid electric vehicle will receive a year of free charging. This bonus will be extended to the fully-electric vehicle.
"We have said this several times before: for Volvo Cars, the future is electric," Håkan Samuelsson, chief executive, said in a statement.
But unlike similar bonuses, Volvo has opted for a blanket reimbursement instead of tracking energy usage. The bonus is administered in the form of a refund to the consumer for the average cost of electricity in their market. The company did not respond to Inverse's request for further details about how the refund is calculated prior to publication.
Elsewhere, the XC40 Recharge offers respectable specs. It offers around 250 miles of range per charge, a battery that can charge to 80 percent capacity in 40 minutes through 150-kilowatt charging, and an output of 408 horsepower thanks to two 150-kilowatt motors. It offers a 0 to 60 mph time of 4.9 seconds. The price is expected to come in at around $50,000 after government incentives, a similar price point to the Tesla Model Y.
Free electricity: enough to make the switch?
The prospect of free charging for one year is enticing. For gas users, it means eliminating the price paid at the pump entirely.
A University of Michigan study from 2018 sheds some light on how these figures compare. It found that the average cost of driving a new gas-powered vehicle in the United States was $1,117 per year, with costs ranging from $993 in Alabama to $1,509 in Hawaii. The average cost of driving a new electric car, on the other hand, was $1,106 per year. That latter annual cost dropped as low as $367 in Louisiana and $1,106 in Hawaii.
That means, on average, an American car driver spends 2.3 times as much on a gas car per year versus an electric car, a ratio that drops to 1.4 in Hawaii and rises to 3.6 in Washington. New car buyers already stand to make a big return from going all-electric, but "free gas" is a pretty enticing offer for the newcomer.
Tesla offered a similar incentive in its early days with free unlimited use of its high-powered supercharger network. It scaled this back in January 2017 to just 1,000 miles of free charging per year. Its latest iteration, introduced in August 2019, gives free unlimited charging to buyers of the premium Model S and X. Reports last month suggested it was also offering two years free charging in select cases for the entry-level Model 3, as part of an end-of-quarter sales push.
Other automakers have also joined the trend. Porsche is offering American Taycan buyers three years of free charging when using the Electrify America charging system. Ford is granting owners of its electric cars two years' free access to its FordPass Charging Network.
Will the trend continue? Tesla CEO Elon Musk described free unlimited charging in September 2018 as "not sustainable long-term." As a short-term bonus, though, an offer of eliminating gas costs could encourage more to make the switch, even if it's only for a short time.