The Best Over The Range Microwaves
Upgrade your kitchen with these top-rated over the range microwaves.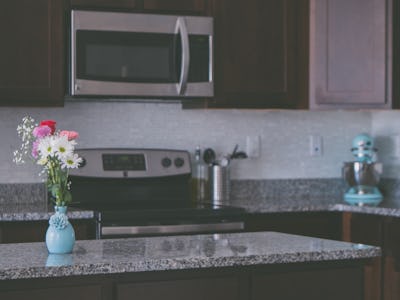 Unsplash / Jessica Lewis
Microwaves are probably one of the best kitchen inventions of the modern era. Next to the Instant Pot, nothing makes life easier than being able to quickly reheat leftovers or warm-up that cold cup of coffee. But for all their positives, microwaves can be a hassle if you don't have a lot of counter space in your kitchen. And that's why over the range microwaves can be a lifesaver. Not only do they offer all of the functionality you've come to expect from this appliance, but they also free up precious space on your countertops. And if you need a microwave but aren't willing to volunteer your countertops as tribute, then these top-rated over the range options should be on your radar.
Unless you're a budding microwave chef, you're probably using this appliance for the usual things: reheating, defrosting, boiling water for a quick cup of tea, or making popcorn. In that case, this GE over the range microwave with 1.6 cubic feet capacity will be more than enough to meet your needs. You can use the programmable buttons to manage common tasks like reheating dishes, defrosting, cooking baked potatoes, or heating frozen dinners. Or, you can use the customizable timer to precisely cook or reheat whatever you desire. This over the range model also features a two-speed vent to help remove odors or steam while using your stovetop and has a built-in overhead light to aid with visibility.
There's nothing worse than an appliance that's covered in fingerprints and smudges. If the thought of a surface that isn't spotless is sending you into a tailspin, then the Frigidaire 1.7 Cubic Feet Over the Range Microwave is a smart buy. Not only will you enjoy the enlarged capacity that can accommodate sizeable casserole dishes, but you'll love the smudge-proof exterior. The black and stainless steel combination will go well with other stainless steel or black appliances in your kitchen. You'll also have access to other standard features such as programmable buttons for standard functions (i.e. reheating, defrosting, popcorn, potatoes, etc.), a button to add 30 seconds to the timer, and customizable timers through the standard keypad.
Being environmentally responsible is a major factor for many people. We know that excessive energy consumption can put a strain on precious resources, increase utility bills, and accelerated climate change. If being environmentally conscious is a priority, the LG 30-Inch Stainless Steel Over the Range Microwave with its 1.7 cubic feet capacity should be on your list. It features an energy-saving mode that automatically powers off your LCD display when the unit hasn't been in use for at least five minutes. Aside from this smart feature, the LG model also comes standard with other common benefits such as an easy to clean interior, buttons for cooking presets, and a keypad for manual cook time inputs.
If you use your microwave to do more than reheat dinner plates, you want one that has a large capacity to accommodate bigger dishes or even whole pieces of meat. The Sharp 1.8-Cubic Feet Over the Range Microwave features an enlarged capacity with a recessed turntable that's designed specifically for larger cookware. You'll also enjoy enhanced functionality that allows you to quickly melt and soften butter, cheese, or chocolate with a one-touch button. This Sharp over the range model also includes other standard features such as multi-speed vents and lighting for improved visibility on your stovetop, preset and customizable cooking features, and an easy to clean interior and exterior.
Over the range microwaves are, by default, more expensive than those designed to sit on your countertop. But if you have a hard spending limit, the Magic Chef 1.6 Cubic Feet Over the Range Microwave won't put too much strain on your wallet. While it does feature a smaller capacity, unless you're cooking large items, you should be able to reheat, defrost, and cook most average-sized dishes or frozen meals. Functionality is somewhat limited in comparison to some of the pricier and larger models. But you'll still have access to pre-programmed cooking buttons, overhead lighting, and ventilation, and a recessed turntable to accommodate dishes and cooking trays of varying sizes.