The Best-Rated Snowblowers
When it snows, you need to have the right tools to make pathways safe.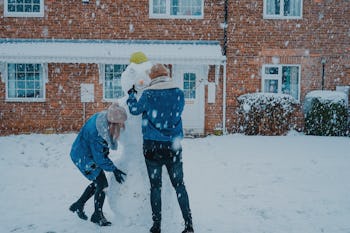 Unsplash / Toa Heftiba
Winter is coming… honestly, winter is literally around the corner. And that means that depending on where you call home, snow could very well be in your forecast. You might not be ready to face the music, but snowy weather can be a pain if you're trying to clear your driveway, sidewalks or patio terraces. Sure, you can go old school with a basic shovel, but protect your back and invest in a snowblower. When you're ready, consider these top-rated options from Amazon.
Maneuverability is a critical factor when you're trying to get rid of snow, and getting tangled up in cords isn't the goal if you have a lot of ground to cover. The Snow Joe cordless snow blower is perfect for maximum mobility because it runs entirely on battery—no cords attached. The rechargeable 40-volt lithium-ion battery is guaranteed to run for 30 minutes between charges. There are countless Snow Joe blowers you can choose from, but this particular model is designed for depths of eight inches, and cuts a path 15 inches wide. And as is common with blowers, this version features a moveable chute that will blow snow up to 20 feet in any direction you choose.
Areas that experience heavy snowfall require snow blowers that are up to that challenge. The popular home improvement brand that has brought you countless tools and DIY appliances also makes a sturdy snow blower that's designed for intense snows. The Toro 18-inch 15-amp electric snowblower is designed for snow as deep as 12 inches, and will cut paths 18 inches wide in a single pass. This model is designed to throw up to 700 pounds of snow per minute, making it perfect for areas that see consistent snow in the winter. Use this snow blower for residential areas like driveways, pathways, patios, and sidewalks. This model also features a 160-degree adjustable chute that can throw snow up to 30 feet. Best of all, you can customize the settings to adjust the depth depending on how much snow needs to be moved.
Unless you know you live in an area that gets consistent heavy snow, it's usually not necessary to invest in a snowblower that's designed for heavy usage. The Greenworks 20-Inch 13 Amp Corded Snow Thrower is the perfect option if you see decent snowfall in your region, but it's not particularly deep or heavy. You can easily clear depths of up to 10 inches while cutting a path that's 20 inches wide. Plus, the Greenworks snow thrower is relatively lightweight, at just 32 pounds. While it is a corded model, it doesn't rely on gas. So, this a smarter environmentally friendly option that can run for an unlimited amount of time as long as it's plugged into a power source. You'll also appreciate how quiet this machine is while in operation.
Whether you're just in a hurry or don't enjoy spending time outside when it's cold, snow removal is one of those tasks that you just resign yourself to do. So, make the process a little less painful by finishing as quickly as possible. The WEN Snow Blaster can easily remove snow in depths of 7.5 inches and can cut a path up to 18 inches wide. The snowblower is designed for mobility, featuring six-inch wheels and a sleek design that can be quickly positioned into place to clear pathways, driveways, and patios. The chute is designed to throw snow up to 20 feet with the option to rotate the chute 180 degrees.
Snowblowers are ideal if you have large areas of land that need to be cleared. But if you live in a condo or a home with limited yard space, a snowblower might not be practical. In this case, a motorized shovel might be a better choice. The Greenworks 12-inch 40 volt Cordless Snow Shovel is a great option for quickly clearing small spaces, and for easy storage. This powered shovel is designed for snow with depths of up to six inches while still throwing snow out of the way of your work area. The Greenworks shovel is perfect for tight areas like porch stairs and upper balconies. Note that the base price shown on this particular shovel on Amazon doesn't include the battery—which can be used interchangeably with other Greenworks cordless tools. However, you can purchase this model through Amazon with the battery included.