Celebrating 'The Green Hornet,' 49 Years Later
The 1966 superhero TV show starred Bruce Lee in one of his earliest roles.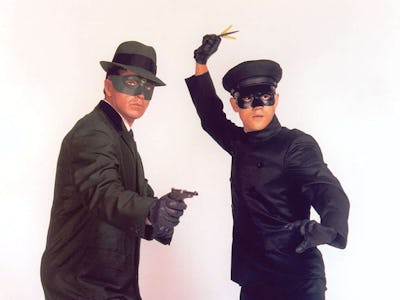 ABC Networks
Forty-nine years ago today, The Green Hornet premiered on ABC television on September 9, 1966. Produced by Greenway Productions and 20th Century Fox, the same team behind the cult classic Batman starring Adam West, The Green Hornet was an attempt to ride the high of '60s superheroes while simultaneously subverting genre conventions. The show failed to catch on and was cancelled after one season.
And it's a shame, because The Green Hornet was fucking cool.
Mind you, it wasn't a good show. It was just cool. This was '60s kid's TV, your definition of good needs to be flexible.
But what The Green Hornet had against its contemporaries, like Batman or Mr. Terrific and Captain Nice, was its elegant grittiness. The Green Hornet was played straight and didn't have an ounce of the camp that Batman proudly wore on his cape (except when they fought aliens in the last episode). It was pulpy and kitschy, sure, but when the Green Hornet and Kato threw down you didn't see BAM! or KA-POW! (Although come on, that stuff ruled.)
An adaptation of George W. Trendle and Fran Striker's 1930s radio show of the same name, The Green Hornet was about billionaire playboy Britt Reid, owner and publisher of The Daily Sentinel newspaper empire (yeah, this was the '60s), as he operates as the masked phantom named the Green Hornet. Armed with nifty gadgets, gizmos, a hot car, and the kung-fu wrecking ball Kato as his valet and bodyguard, the Green Hornet infiltrates the criminal underworld by posing as one of their own before bringing them to justice.
The show starred diving instructor turned actor Van Williams as Britt Reid/Green Hornet. Handsome and suave, he never managed to reach the apex of Hollywood stardom. Co-starring as the secretary Lenore Case was Wende Wagner, a fashion model who turned down starring roles in Some Like It Hot and The Apartment. Walter Brooke was District Attorney Frank Scanlon, and a young, unknown actor named Bruce Lee was your Kato.
Let's be real, Bruce Lee is the reason anyone remembers The Green Hornet. His presence in the show makes up the brunt of its coolness. But even so, prejudice against people of color in 1960s Hollywood hindered Lee from truly shining as the show's star. Despite being a two-man team, Kato was hardly seen on his own, only acting when the Green Hornet told him to. Exciting as it was, the show suffered.
Williams agrees. "I felt my role was very one-dimensional," he said in a 2006 interview. "[Reid's] life was one-dimensional in that he worked hard as a publisher and editor and as a crime-fighter, but there were no hobbies, romances, [and] he didn't seem to have many friends."
The show was mysteriously given only a half-hour, whereas Batman was made up of two-parters. It was this lack of time to develop the characters' relationships that Williams believed caused the fall of Hornet. "When I had my first meeting with [producer] Bill Dozier my main complaint was that the show should have been done as an hour … If we had gone another year with an hour to work with there would have been a lot more development of Wende's and Bruce's roles."
Although The Green Hornet was a more serious and gritty series, it wasn't as fun. The Green Hornet and Kato were slick and cool — they're GQ guys on a comic book rack — but their lack of levity prevented them from enduring in pop culture. Though the cartoon aesthetic of Batman is easy to ridicule, it gave that show a unique identity that The Green Hornet doesn't have.
Still, Batman didn't have Bruce Lee.
"That is where the two-parters came in," Williams said. "They did three of them just to show that was what was needed and when talk of the next year came up, Dozier said it would only be done as an hour show or it wouldn't be done. Our ratings were better than the two hour shows we were against, but ABC couldn't or wouldn't find the extra half-hour we needed.
"We had a budget that was almost the same as Batman, but that show was an hour and ours was a half-hour. I understand that everything Fox was making on Batman we were losing on Green Hornet."
In the second season of Batman, the Green Hornet and Kato come to Gotham City and cross paths with Batman and the boy wonder Robin in a special two-part crossover. Many TV crossovers are nothing more than a novelty, but for Batman and the Green Hornet the prospect of seeing the two diametrically similar crime fighters was exciting, and it's a tradition that endures today with shows like Arrow and The Flash.
In 2011, Sony produced a big-budget The Green Hornet movie that, like the series before it, tried to ride the superhero franchise wave and failed to catch on. Directed by Michel Gondry and starring Seth Rogen, Cameron Diaz, Cristoph Waltz, and Taiwanese pop star Jay Chou, the movie took a stoner comedy approach to the premise and polarized critics and audiences.
Today, The Green Hornet is a mostly forgotten retro classic. But as superheroes continue to dominate the cultural landscape, exploring the lesser-known corners of the genre's history can be fruitful, like seeing how badass your grandfather was in his prime.
Also: The show's entire run is up on YouTube. Enjoy.