What time does 'El Camino: A Breaking Bad Movie' release on Netflix?
Not too long to wait now...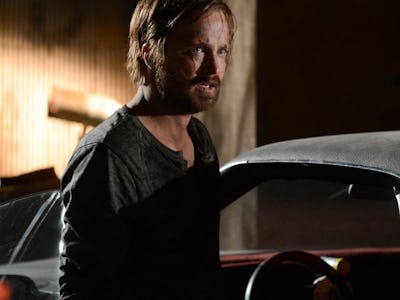 AMC
El Camino, the much-buzzed-about film that traces what happens to Jesse Pinkman (Aaron Paul) after the events of *Breaking Bad," arrives on Netflix in the wee hours of the morning on Friday, October 11. That's tonight! But if you're on the East Coast, like us, you'll have to stay up awfully late to catch it.
El Camino is here! Read our spoiler-filled recap.
Netflix typically debuts its new releases at 12:01 a.m. West Coast time. That means those of us out East won't be able to access El Camino until 3:01 a.m. So if you want to catch up on a few episodes between now and then, or maybe rewatch the finale, there's still a bit of time to do so.
No time for a rewatch, or being forced to watch El Camino by a friend or significant other who won't shut the hell up about "Ozymandias"? You can check out the *Breaking Bad" recap video Netflix released on Tuesday, which condenses five seasons of television to an easy, breezy three-minute video.
According to Netflix, El Camino picks up after Jesse's dramatic escape from Uncle Jack's meth lab and white supremacist rodeo. Walter White's right-hand man must reconcile his past in order to move on and make a future for himself. What that will actually look like is anyone's guess. The film is directed and written by series creator Vince Gilligan, and we're confident that the film isn't just a cheeky cash grab six years after the show went off the air.
If you're a die-hard Breaking Bad fan, you can catch the limited El Camino theatrical run in select theaters in 68 cities. Don't forget to smuggle in some fried chicken for that Los Pollos Hermanos flair.
El Camino comes to Netflix October 11 at 12:01 a.m. PT, or 3:01 a.m. ET.