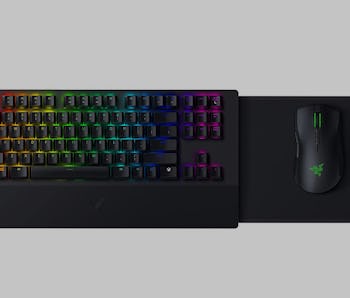 Innovation
The Best Wireless Keyboard and Mouse
A keyboard and mouse combo option for everyone
Amazon
The idea of a keyboard and mouse combo is usually met with a scowl from anyone who knows what to look for, and that's for one reason: they're usually not at all promising. Luckily, while the pool of options shrinks when you're looking for a wireless keyboard and mouse combo, the quality of the products tend to be better due to the nature of the tech inside. That's not always the case, though. There are plenty of no-name brands pushing wireless keyboard and mouse combos that will overpromise and under perform, so we're going to help you avoid a purchase like that.
Below, we're going to show you some of the best mouse and keyboard combos that are actually worth your time and money.
If you're looking for a solid ergonomic keyboard and mouse combo, look no further than the Microsoft Sculpt Ergonomic Keyboard and Mouse Combo. Easily one of the best ergonomic keyboards available, albeit on the more simple side, the Sculpt keyboard is a dream to type on. Not only that, it's modern, split key design is as gorgeous as it is functional.
While not nearly as eye-catching as it's keyboard brother, the included Sculpt ergonomic mouse is a simple, straightforward, and precise mouse. Featuring a thumb "scoop" for maintaining the best position for your hand and wrist, both the Sculpt mouse and keyboard are built with comfort in mind.
If you're going for ergonomics and a fantastic overall experience, this should be at the top of your list, as it is on ours.
If you're looking to find a quality keyboard and mouse combo, but aren't looking to spend a ton of money, nor are you willing to dabble into the world of no-name brands to save a few dollars, the Logitech MK345 Wireless Combo was practically made for you. This combo is not only Amazon's best-selling keyboard/mouse combo, but it also takes the #2 spot in the "most wished for" category as well.
Logitech knows its way around computer peripherals and that's showcased in this combo. The keyboard itself offers up a spacious, full-sized layout, including a number pad, and additional keys for media and volume control. It also has a decent sized palm rest for a comfortable typing experience.
Like the Microsoft combo above it, this keyboard and mouse combo ships with a right-handed mouse, so leftys will be, well, left out. However, the mouse itself provides a nice grip and accurate tracking.
As mentioned above, Logitech knows a lot about computer peripherals and it covers both low and high-end options. This premium keyboard and mouse combo has a lot on offer in terms of features, which may help justify its price point for you.
Inside this combo is the Logitech K800 and MX Master 2S. The keyboard itself is backlit, which can provide an instant advantage over some of the others on this list. This is a crucial feature if you plan on typing in less than ideal lighting conditions. The backlighting even adjusts to the lighting of the room so it'll never be overkill for you.
The MX Master 2S is one hell of a mouse on it's own, so being paired with the K800 keyboard is only good news. This is a highly-accurate and highly-comfortable mouse that has a lot to offer the user, including a 10 day battery life and the ability to connect to and switch to 3 different computers with a simple button on the mouse.
This Razer keyboard and mouse combo is certainly on the expensive side of things, it's also one of the strongest best combos available. Given that it's built for PC or Xbox gaming, it has to be.
The Razer Turret keyboard and mouse are connected to a PC or Xbox via a single USB dongle to save space, but that's about the only area it saves space on, and that's a good thing. The mechanical keyboard is spacious, allowing for a comfortable typing and gaming experience. It also includes a large palm rest, as well as a retractable and magnetic mouse pad for the accompanying mouse. Speaking of the mouse, it ships with the Razer 5G optical sensor and 16,000 DPI, bringing near perfect accuracy.
It wouldn't be a Razer product without the inclusion of Chroma RGB lighting, and the backlit keys on the keyboard and mouse will sync up with the colors of your Xbox One games through dynamic lighting. Of course, since this is a wireless mouse and keyboard, the RGB lighting will make the combo take a hit in the battery department, though you can get some decent gaming time in. With the RGB lighting enabled, the keyboard should last 11 hours and the mouse will squeeze out 30 hours of use. Now, if you turn RGB lighting off, the battery life on this duo will rise all the way to 43 and 50 hours, which is enough for a couple hardcore gaming sessions.