The New iPhone Camera Will Bring It One Step Closer to Perfection
Here come 12 megapixels of pure clarity.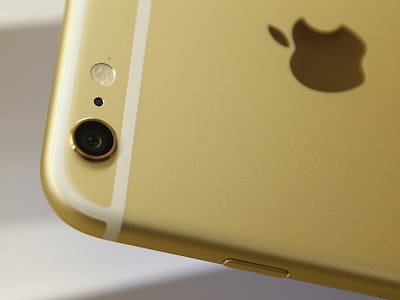 Getty Images
One of the most notable upgrades [we're expecting]( with the new iPhone 6s and 6s Plus (or whatever they'll be called) at Apple's big event tomorrow isn't a new color variant or enhanced Siri functionality, though those are rumored. Instead, Apple will look to beef up the iPhone's camera capabilities, bumping the hardware's image size from 8 to 12-megapixel strength with a faster image processor to boot. Add a rumored front-facing flash to capture those nighttime selfies and 4k video potential and the next level of iPhones begin to look more focused on capturing images than talking to your friends on the phone or surfing the web.
This is not an insignificant part of Apple's bid for world domination. The camera has been a selling point on each successive iPhone model. More than a smoother iOS interface or the proliferation of an endless stream of apps for users to peruse at their leisure, it's been the camera that brought the iPhone to the smashing success it is today.
The iPhone camera in particular defines the essence of the product itself, a window to the soul of the Apple ideology. As a whole, the iPhone is an extraordinary machine that allows you to do extraordinary things in the most effortless way possible. Take away that effortlessness and the whole scheme begins to crumble.
It's why Apple made such a big deal about recalling and replacing a "small percentage" of defective iPhone 6 models just last month due to faulty camera components. Just a hint of blurriness in your quickly snapped sunrises or images of your Sunday brunch threw Apple into a tizzy even as the company planned to unveil new upgrades a month later. Call it sentimental, or catering to Apple's self-aggrandizing, but the camera is the gateway to the effortless user experience.
Nowhere is this more true than in its successful "Shot on iPhone 6" marketing campaign. It was so good not just because it won awards, but because it addressed the way in which anyone could use the most popular camera on Earth to capture gorgeous images. It married professionalism with an everyday-centric easy mentality. Hell, even the breakout hit at Sundance this year, called Tangerine, was shot on an iPhone using an $8 app. You could be a photographer and a filmmaker with just one gadget.
But ask any professional photographer or tech website doing side-by-side comparisons of the iPhone camera and a pro-grade DSLR and there's no contest. Comparisons between the iPhone and other smartphones are a little more varied. Despite that, Apple never made any bones about attaining a strictly professional level of photographic integrity. Instead it positioned the iPhone camera as a method for casual picture-takers who wanted to stop and capture a moment to put on Instagram or Twitter without having the wherewithal to worry about depth of field, exposure time, or any of that to do it.
The images it produced were indelible, and making the camera more and more powerful as each successive iPhone is introduced allows Apple to inch closer and closer to a point of technological democratization that Steve Jobs could have only dreamed about, and probably did.
So what images will come next? We'll have to wait until Wednesday to find out. The future, though, points in the direction of an old journalism truism: The best camera, the saying goes, is the one you have on you. More and more, that's true by choice, rather than by default.