The Top Espresso Machines For Every Price Range
The best machines aren't cheap, but there are options at every price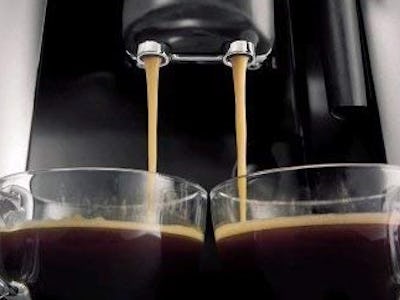 Amazon
True espresso coffee is made by forcing hot water through coffee grounds to extract the flavor. The accepted standard is that the pump should exert at least nine bars of pressure for best results.
The price variation between espresso machines is as wide as the Pacific Ocean: from $25 to more than $2,500. The good news is that you can purchase some sort of espresso maker no matter your budget. However, those in the lowest price ranges might not produce exactly the same drink you get at a coffee bar.
When shopping for an espresso machine, consider whether you want the machine to have a coffee bean grinder or milk frother. Ease of cleaning is important, too.
We've found some top-rated espresso machines in a variety of price ranges, focusing on options we can afford on a budget.
Why We Picked It The stovetop espresso maker, AKA a moka pot, is a classic. You can use it on a gas or electric burner, and it's incredibly easy to use. You won't get "real" espresso because these stovetop units don't build enough pressure, but you'll get a strong, velvety brew in about five minutes. The Bialetti is Amazon's best-seller in the stovetop espresso maker category.
Why We Picked It If you want a portable espresso maker, the Staresso coffee maker weighs less than a pound and is only eight inches tall (aww). Just press the top down to force water through coffee grounds to extract the flavor. You can also use espresso pods with this machine. The machine doubles as a frother when you pump milk through it, too. Staresso says the pumping system produces 15 to 20 bars of pressure. The pump and coffee chamber are made of stainless steel.
Why We Picked It This Hamilton Beach espresso maker has a 15-bar pump to extract full flavor from your coffee grounds. (Cheaper machines sometimes have pumps as low as 3.5 bars.) If you prefer, this espresso maker can also use an espresso pod, too—though we don't recommend it for a full-flavor espresso. This model has a built-in swiveling steam wand, and a dial on the front where you select espresso and steam functions. The drip tray and water reservoir are removable and hand-washable.
Why We Picked It If you believe that espresso can be made from a pod or capsule, rather than from beans you've ground, we'll politely disagree, but this Nespresso machine is excellent for its kind. It's designed for Nespresso capsules, and you can make five different sized drinks, from a 1.3-oz. shot of espresso to a large coffee. You can have your drink almost instantaneously, thanks to the 25-second warm-up time. The 60-oz. water tank is on a swivel, so you can place it behind or beside the coffeemaker, depending on how your counter space is configured.
Why We Picked It The Breville Barista Express uses almost twice as much ground coffee per shot as most machines in its class, giving you a café-rich flavor. Yes, $500 may not seem like a budget choice, but when we consider that really quality espresso machines run easily into the thousands of dollars, this one is really an excellent deal. The digital temperature control and nine-bar extraction pressure are designed to bring optimum results every time. The machine also includes an integrated burr grinder that grinds coffee directly into the filter, and you can adjust the grind size based on the bean you're using. The steam wand lets you hand-texture micro-foamed milk so you can create a design atop your latte.
Why We Picked It This DeLonghi machine makes coffee, espresso, cappuccino, and lattes, and it's frankly exquisite for the price. The internal burr grinder with 13 settings ensures you have fresh beans for each cup you brew. The machine has automatic settings for temperature, richness and density, or your can customize it to your liking—you only have to do it once because the coffeemaker remembers your choices, so it's also basically a butler, which is cool. The manual frother mixes steam with milk for your favorite coffee-based drinks.