Leaked emails suggest that Pixel 4 might -- finally -- be coming to AT&T
Joining the U.S.'s largest wireless provider could make the Pixel 4 Google's biggest phone yet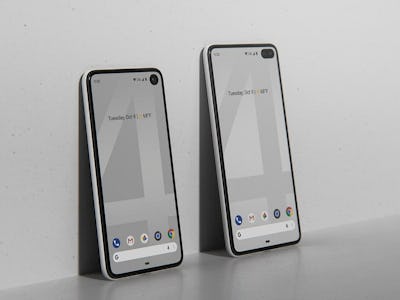 Geeksultd
In true Google fashion, more information about the anticipated Pixel 4 has been revealed ahead of the phone's official debut on October 15. After strictly being available on only four wireless networks, Sprint, T-Mobile, and U.S. Cellular, Verizon, and Google Fi, it looks like the Pixel 4 will finally be offered to AT&T customers as well, according to alleged internal emails from the wireless provider.
While Pixel users have been able to use unlocked phones on AT&T's network, and even receive Google's assistance on specific AT&T problems, this will be the first time the phone will officially be joining the country's largest wireless provider. With approximately 159.7 million subscribers as of the most recent 2019 count, a partnership with AT&T could stand to make the Pixel 4 Google's most successful phone yet.
But, before we get ahead of ourselves, what exactly happened?
PhoneArena received a tip that contained an internal AT&T email with the subject line "Google Pixel 4 Seed Devices."
While the email itself is full of industry jargon, it essentially informs employees that AT&T stores can expect to receive one sample per store of the Pixel 4 phone for one employee to familiarize themselves with, supposedly in order to be able to better understand and sell said phones to customers.
9To5Google writes that the use of terms like "Apple Master" and "Samsung Pro" gives this tip some legitimacy, as those titles are associated with carrier-based programs designed to educate employees about the phones their providers sell. Because the email says the employee selected for the seed devices cannot already be an expert in the other two devices, it seems like they may be being trained to be a Pixel expert instead.
This isn't the first time there's been rumors around AT&T partnering up with Google for the Pixel, it had been expected during the Pixel 3a and Pixel 3a XL release in May as well. As for why that never came to fruition, experts have theorized that it's simply a game of hot and cold flirtation between Google and the other carriers
"To get the other carriers, Google likely needed to tell the other carriers it would ask AT&T last," Patrick Moorhead, founder and principal analyst of Moor Insights and Strategy, told CNET. "It's all negotiation at this point. AT&T carries many midrange phones from other makers and it's not like consumers are picketing the company to carry Google Pixels."
While this kind of game-playing may seem childish, it's worth keeping in mind that it was only during the Pixel 3a launches that Google even expanded their carriers beyond Verizon and Google Fi to begin with. Going into the launch of Pixel 4, it's certainly possible — and seems probable — that AT&T will be next to join the family.
And, if it does, this would only stoke the competition between competitors also sold by the carrier such as Apple and Samsung.
Pixel's Night Sight camera is already something Apple chased with its Pixel 11, and Google's Pixel 4 is expected to unveil even more exciting features, such as new hands-free motion control powered by the Soli chip and face identification.
These new features and a potential partnership with AT&T could push the phones even further into competition with big players like Samsung and Apple and into public popularity.