The Best Ergonomic Keyboards
These three ergonomic keyboards are where you should put your money.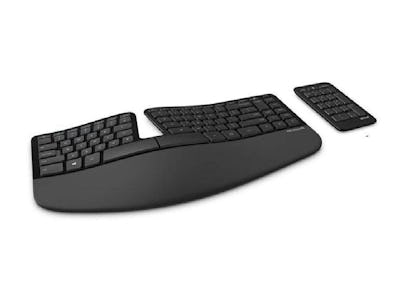 Amazon
Typing on your computer for long periods of time can come at the cost of your own comfort. While the standard desktop keyboard may offer legs at the back to adjust the height, that function doesn't do too much to ease an aching wrist, or make for a comfortable or enjoyable experience. If you're looking for an actual comfortable typing experience, you're going to need to look elsewhere than the
If you've been looking into ergonomic keyboards for a more enjoyable typing experience, then you've probably already found that there are several to choose from. So many options tend to promise a world of comfort and ship with various features that you may or may not actually plan on using. You've also probably noticed that the prices for these keyboard vary wildly. All of these variables can make for a troubling decision ahead.
So, what are the best ergonomic keyboard around, and will you have to spend a lot of money for a great one? Buckle in, as we're going to show you the best of the best below.
The modern design of this keyboard is going to draw you in and its comfort is going to make you stay. In a world where ergonomic keyboard look more cumbersome than comfortable to use, the Sculpt Keyboard by Microsoft will make you want to use it just from it's looks.
Moving to a split keyboard layout can seem like a tedious task, but the Microsoft Sculpt makes it an easy transition. Not only is it easy on the eyes, the palm rest is also beautifully designed and wholly functional. It has an elegant arc to provide a natural resting position for your wrists so you can type for longer and without discomfort. The keyboard also comes with a separate number pad that you can have alongside the main keyboard. If you'd rather that it have the number pad included, and in a different color, Microsoft also offers a "Surface" keyboard that sports just that—a built in number pad in a nice gray color option.
If there was a downside to the Microsoft Sculpt Keyboard, it would be that it's too simple. There are virtually no fancy bells and whistles to speak of—it's a no-frills experience as far as options are concerned. But even that isn't enough to take away it's crown. This is a great keyboard that even nails a decent price point to boot.
The best budget option with extra features: Logitech K350
If you're willing to give up some style for more function and still not spend a fortune on an ergonomic keyboard, the Logitech K350 should be on your go-to list. While it's hardly the looker Microsoft's Sculpt Keyboard is, it does have extra options that some may view as more important. It's a bit rare to get more features than your average ergonomic keyboard for such a small price.
The K350 doesn't offer a split-key layout, but a wave-shaped contour for easier typing and reachability. As you'd expect, the keyboard also brings a comfortable palm rest to provide a more comfortable typing experience. What sets the the K350 apart from something like the Sculpt is that is offers a highly customizable experience, offering an assortment of media controls and programmable keys that you can assign and reassign to your liking.
Obviously, if you're looking for a split-key layout on your keyboard, then move along, but also don't discount the power of this ~$36 keyboard.
The best middle-of-the-road option: Perixx PERIBOARD
If you're a fan of the split keyboard layout like the Microsoft Sculpt keyboard but also want a decent amount of space to work with like the Logitech K350, the Perixx Periboard strikes a fine balance between the two.
While the Periboard also comes with an assortment of extra keys like media controls, it feels significantly less busy than the Logitech option. You'll also get a choice between black and white and white color options. If you're really looking to try something a bit different, Perixx offers some models of its ergonomic keyboards that have trackpads or trackballs built right into the palm rest.
The Perixx Periboard has a lot going for it while remaining quite similar to it's competition. That said, it's one of the few that has the right amount of style and function to rise above the rest of the similarly priced ergonomic keyboards out there.