Sam Mendes: '1917' isn't a war movie, it's a "thriller"
"I never thought of it as a war movie," Mendes tells Inverse. "It adheres more to the structure of a thriller."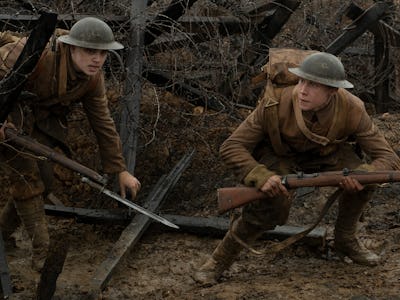 Universal Pictures
1917 looks a lot like a war movie, and not just because it's set smack dab in the middle of World War I. The upcoming film from Sam Mendes, which released a new trailer on Thursday at New York Comic Con, features an iconic shot of one of its leads running through an epic battle scene as bombs explode and British soldiers keel over. It's also got plenty of somber generals (played by the likes of Benedict Cumberbatch and Colin Firth) looking extremely dour. But despite all those trappings of a classic war movie, Mendes tells Inverse that 1917, which was filmed and edited to look like one continuous 2-hour shot, is actually more of a thriller.
"I never thought of it as a war movie," says Mendes, who also wrote the script. "It adheres more to the structure of a thriller."
No, that doesn't mean 1917 is secretly a murder mystery or a Cloverfield monster story. Rather, Mendes argues that all war movies are terrifying in their own way (or, at least, all the good ones are).
"All good war movies are scary," he says. "but not for the same reasons that horror movies are scary."
The story of 1917, which focuses on two your British soldiers racing to deliver a message to another battalion, also gives the movie an extra layer of tension. If Schofield (George MacKay) and Blake (Dean-Charles Chapman) don't make it in time, 1,600 British soldiers will walk into a German trap and likely die. Scary stuff.
"I think it's a classic ticking clock mission movie," Mendes says. "You know, it's not a combat film. It's not a eat your peas historical war lesson. It's a ride."
1917 co-writer Krysty Wilson-Cairns agrees.
"There's no jump scares, but it it's about delivering a message against the clock," she tells Inverse "So it's really a thriller. It's a race against time. The fact that is in World War I is just this amazing backdrop to say something about duty and honor and sacrifice."
And so does the film's producer, Pippa Harris, who adds a twist of her own.
"it's a thriller" she during a Comic Con panel for 1917, "but it makes you care about these boys."
1917 hits theaters on December 25.