"Joker threat": Leaked Iowa National Guard bulletin cites "credible" warning
"Credible sources indicate a known extremist group may be behind the threat."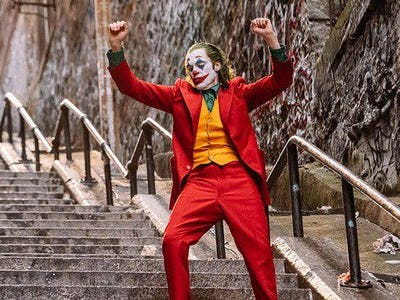 Warner Bros. Pictures
The Iowa National Guard has warned its service members about "potential active shooter threats" at screenings of the Joker movie, which opens nationwide on Friday.
The bulletin, titled "Joker Threat to MWR (Morale, Welfare and Recreation)," notes that "credible sources indicate a known extremist group may be behind the threat" and adds that the "threat appears credible." The memo states that "no specific threat is identified."
The message is directed at "Iowa National Guard service members, employees, contractors, and their family members" with a general warning that they should be on the lookout if they plan to attend a Joker screening.
A member of the Iowa National Guard who asked to remain anonymous shared the bulletin with Inverse on Thursday. The Iowa National Guard has confirmed the bulletin is legitimate.
"…no specific threat is identified"
The document goes on to explain that "no specific threat is identified" and that no single city or venue is considered a target, the Iowa National Guard notes that, in general, movie theaters cities are considered to be a more likely target, but will also likely receive additional protections from local authorities.
Finally, the document offers guidelines on what to do in an active shooter situation, beginning with keeping an escape route in mind and finding a safe hiding spot if escape is impossible. If left with no other option, service members are told to take action by acting "aggressively," improvising a weapon, yelling, and "committing to your actions."
A screenshot of the full document at the bottom of this article
The Iowa National Guard bulletin follows a similar warning received by military commanders in Oklahoma in September, which said that Texas law enforcement and the FBI had found "'disturbing and very specific chatter in the dark web" about a possible planned shooting targeting a Joker screening. That document also warns service members to flee, hide, or defend themselves in the possibility of a shooting.
At the New York Film Festival screening of Joker on October 2, attendees noted an increased police presence, and the New York Police Department will reportedly increase security at screenings as part of a nationwide trend.