Where to find the secret battle star in 'Fortnite' Season 10, Week 10
Don't forget to thank your bus driver.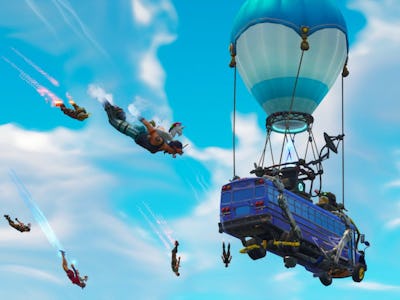 Epic Games
The Fortnite: Battle Royale Season X, Week 9 loading screen referenced the tomato god of this strange world, but the final loading screen of Season X in Week 10 is a beautiful, nostalgic send off to the battle bus.
Why? Is it a clue that larger changes than usual are happening for Season 11? Regardless, with the start of Week 10 on Thursday, Epic Games added a new "Last Stop" mission set that'll be available
Normally, limited-time challenge sets like this are only around for a week, with one new challenge unlocking each day at the usual 9 a.m. Eastern time. Once players complete three of the seven challenges, they unlock a special loading screen with a clue in it that also grants them the privilege of tracking down a special prize, usually what people call a "secret battle star." That'll amount to an entire tier on the Season X Battle Pass, so for people who tend to complete a lot of challenges anyway, it's totally worth it.
This being the final week of Season X, however, things are a bit different. Last Stop won't end until October 13 at 2 p.m. Eastern. Season X's Out of Time overtime challenges, which open up October 8 at 9 a.m. Eastern, also end at that precise time. But so far, there's no sign of a clue or a secret battle star.
As usual, players have to complete three Last Stop challenges to unlock the loading screen, and the image doesn't seem to offer any definitive clue. Perhaps by thanking the bus driver in a match, it'll trigger something. Alternatively, there might be nothing. The earliest players will know for sure is Saturday after the third challenge unlocks.
Here's a look at all of the Last Stop challenges based on leaks:
Deal damage with Suppressed weapons to opponents
Outlast opponents in Solo or Squads mode
Assault Rifle eliminations
Search Chests at Loot Lake or Happy Hamlet
Land at Lucky Landing or Retail Row in different matches
Search Ammo Boxes in a single match
Visit different Named Locations
Speaking of leaks, Fortnite data-miner @Lucas7yoshi tweeted that Season 11 might feature an entirely new map, yet another gaming aspect that Fortnite borrows from Apex Legends. Earlier this week, the launch of Apex Legends Season 3 included the introduction of a new map. Is Fortnite about to do the same later this month? It seems likely.
If things change and there turns out to actually be a prize for the Week 10 loading screen, we'll update this article with all the pertinent information, but for now, focus on all of the other challenges and maxing out your battle pass before the end of the season.
Fortnite: Battle Royale will probably end on October 13.