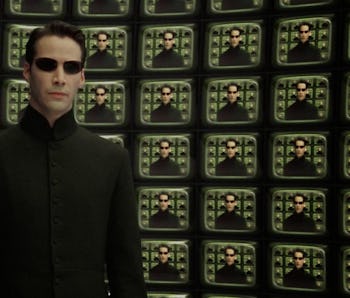 Entertainment
Young Neo casting rumors hint at a strange direction for 'Matrix 4'
Will we see Keanu face off against his younger self?
"The Matrix Reloaded"
It's tough to predict what a fourth Matrix film could be about. The original trilogy of films ends with a concrete sense of finality, seemingly limiting any prospect of the story continuing. The Matrix series has long been driven by the philosophical artistic vision of the Wachowskis, and that's a big reason why there hasn't been a single reboot or tacked-on sequel since the original series ended.
That changed earlier this year, with the surprise announcement that a fourth Matrix film is currently in production. Directed by Lana Wachowski, the film will see original franchise stars Keanu Reeves and Carrie-Ann Moss return — which presumably means the return of Neo and Trinity, though maybe not as we once knew them, given how the original films ended. (There's still no word on whether Laurence Fishburne will return as Morpheus, though). Reeves has called the script "very ambitious" in an interview with Entertainment Tonight. Given the lofty intellectual and cinematic vision behind the original trilogy — for better and worse, in light of the mixed reception of Reloaded and Revolutions — it seems the series could really move in any direction, no matter how strange, with Matrix 4.
We recently got our first indication as to where the film might be heading with a small leak regarding casting for the film. Variety's Justin Kroll reported that Warner Bros. is looking to cast an actor to play young Neo in the upcoming film.
It's highly doubtful that Matrix 4 will be an out-and-out prequel, especially given Reeves and Moss's involvement in the project. The original trilogy also doesn't quite allow for a prequel involving Neo, given the point at which he comes into the story. After all, he'd just be Mr. Anderson, working a boring job while ignorantly living in the matrix.
However, the world established by The Matrix franchise is a strange one, in which the confines of reality are seemingly only limited by the Wachowskis' labyrinthine imaginations. As such, it feels very plausible that this young Neo could simply be a momentary illusion meant to throw our heroes off balance, not unlike the first film's iconic woman in the red dress. Or, it could be a more fleshed out new character adopting the form of a young Neo. It also means that we may see Keanu's Neo conversing —or maybe even fighting — with his younger self, which would be a Matrix-y cerebral trip of the highest order.
We probably won't be learning any firm details about the storyline and secondary characters of Matrix 4 for quite some time, but if this casting news is any indication, expect something weird. Well, weirder than usual, at least. This is The Matrix after all.
The Matrix 4 will begin production in early 2020.