'Star Wars 9' theory reveals why Kylo Ren doesn't want to be redeemed
Kylo's repaired helmet could be more important than you think.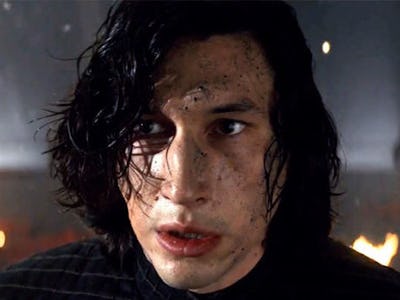 Lucasfilm
All signs seem to be pointing toward a Kylo Ren redemption arc in Star Wars: The Rise of Skywalker, but what if Kylo doesn't want to be redeemed at all? A fascinating new theory uses clues like Kylo Ren's mask and various Star Wars toys and novels to argue that Bendemption just isn't in the cards for Episode IX.
Speculative spoilers ahead for The Rise of Skywalker.
Given that Kylo's journey has paralleled that of his grandfather, Darth Vader, it's no surprise that he might also find his way back to the light, just as Vader once did. However, while there are a lot of similarities between the two, the path to redemption is always a matter of choice.
According to redditor u/who-talks-first, Kylo actively made the choice to remain with the Dark side. The theorist draws up a thoughtful analysis and using an arsenal of clues and leaks to explain why Ben Solo doesn't want to be redeemed.
In an interview with Empire, Rise of Skywalker director J.J. Abrams suggested that Kylo's fractured mask is a "very intentional thing," comparing the antagonist's cracked mask with that of the Japanese philosophy of Kintsugi, which is essentially the concept of embracing one's flaws instead of hiding them. Kylo Ren's new mask, the theorist argues, exemplifies this concept.
Here's our theorist expanding on the meaning of Kylo Ren's new interest in the Japanese arts:
Basically, kintsugi is about fully acknowledging and embracing the break. When this comes to Kylo Ren, it shows just how different he is from Vader. Especially taking into consideration JJ's words. Kylo Ren is embracing his faltering from the last two films. The breaking of his helmet. The pull he had with the light. This is Kylo Ren saying "Yes I am Ben Solo! Yes I was tempted by the light!"
The theory goes on to explain that Kylo fully embracing who he is, cracks and all, is the primary difference between him and Darth Vader. His mask serves as a visual representation of his history and the choices he's made, which include the murder of Han Solo and his manipulation of Rey. Even the toy versions of Kylo seem to declare that his loyalties remain with the Dark side, including one that describes Kylo's power as a "Sith Attack."
Additionally, in the Star Wars novel Resistance Reborn: Journey to Star Wars: The Rise of Skywalker, Leia opines that "Ben has made his choices. No one can save Ben but himself. And I don't know if that is what he wants."
We all know that Rey, Leia, Han, and Luke have all tried (and failed) to bring Kylo back, but he refused their help over and over again. The onus is on him for choosing to remain with the Dark side and not on those who tried to help him. Considering the evidence, it's hard to imagine Kylo suddenly deciding to change course, though nothing's impossible. (Then again, all the recent leaks seem to suggest he'll see the Light.)
Sure, it can be argued that there's still hope for Kylo — even when the latest Rise of Skywalker poster firmly showcases his opposition to the Resistance — but it's possible that he's well past the point of no return.
Star Wars: The Rise of Skywalker hits theaters December 20, 2019.