Obi-Wan Kenobi series may feature a familiar face from Tatooine
A journalist recently teased the involvement of a franchise veteran on social media.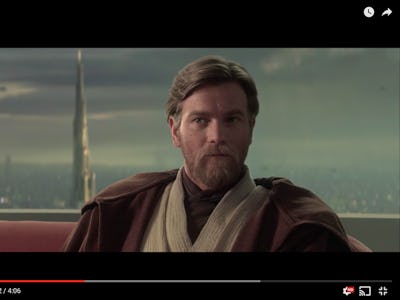 Photo via YouTube / Account: Ryan McGilloway
Star Wars fans the world over were delighted to hear Ewan McGregor would return to the role of Obi-Wan Kenobi has been confirmed at Disney's D23 event this summer. The character will be the focus of a Disney+ series coming our way sometime next year. It's safe to assume that the story will focus at least partly on Kenobi's time on Tatooine in the years between Revenge of the Sith and A New Hope. While there's no telling exactly what he spent those years doing (outside of some appearances in The Clone Wars and Rebels) an entertainment reporter seems certain that the show will feature the return of a familiar face.
After an interview with actor/writer/director Joel Edgerton, MTV reporter Josh Horowitz seems relatively certain the actor will return to the role of Owen Lars, Luke Skywalker's adoptive uncle. Edgerton originated the role in Attack of the Clones. He returned briefly in Revenge of the Sith, but hasn't been seen in the world of Star Wars since.
It appears Horowitz asked Edgerton directly if he'd reprise the role for the still untitled Obi-Wan series. Horowitz claims to have "seen many an actor playfully evade" such questions, but nevertheless says, "I'm placing a big bet Owen will be back [in Star Wars]"
It makes sense if you think about it. In A New Hope Luke is clearly familiar with Obi-Wan, as is Owen (of course). That the two characters would interact during Kenobi's time in exile seems only fitting. And Edgerton has, as it turns out, aged into the role perfectly. His profile has also elevated significantly since his first appearance in the franchise and having him return could be a formidable asset to the show's star power.
There's still no confirmation as to who will be involved in the show beyond McGregor and director Deborah Chow. But we've got a feeling you can count on Edgerton appearing. The only question is when it will be made official.
The Disney+ streaming service launches November 12.