Seattle's Best New Burger Joint Is a Minecraft-Themed In-N-Out Clone
CaliBurger is opening up its first U.S. location.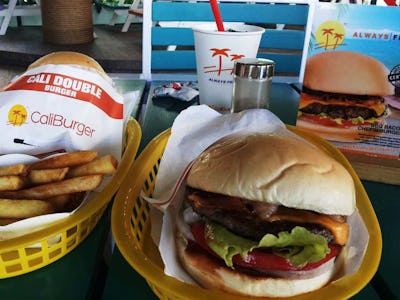 www.flickr.com/photos/puck777
The residents of Seattle that like a little Minecraft with their burger and fries are in luck. CaliBurger, an Irvine-based company that has franchises throughout Asia, has opened up its first U.S. location near the University of Washington campus. The establishment features a customized version of 'craft that allows eaters to play while they scarf down their lunch. But gaming gourmands in the Pacific Northwest better get there soon, because CaliBurger is almost certainly going to get sued for copyright infringement…again.
Any potential legal proceedings most likely won't be from Mojang, the Swedish company that developed and distributed the open world video game, but instead for the chain's recognizable double burgers and sunny aesthetic ripped off from another west coast burger institution.
In 2012, CaliBurger was sued by much larger burger chain In-N-Out for copying its signature Double-Double burgers and other greasy favorites like "Animal Style" fries with cheese and special sauce, as well as the sunny red and yellow logos adorning similar style shakes and soft drinks. In-N-Out built its case by pointing out that CaliBurgers founders are Americans who previously worked at various In-N-Out locations.
Still, CaliBurger has prospered in Asia, where imitation fast food restaurants are a norm. While covering the initial lawsuit in 2012, the LA Times cited other examples of fast food knockoffs in Asia like Dairy Fairy, Pizza Huh, Jambo Juice, and OFC (a.k.a. Obama Fried Chicken) that began popping up once China specifically became a viable fast food market.
With the opening of the Seattle branch, CaliBurger looks to challenge In-N-Out on its own turf on the Pacific coast. The hope is that the custom Minecraft game and other gimmicks like phone charging stations at each booth and mobile ordering will give it a fighting chance.
CaliBurger is also looking to open up locations in Maryland and Canada by the end of the year. This growth strategy seems to be a reaction to In-N-Out's famously considered and slow expansion. The company only operates in California, Arizona, Nevada, Utah, and Texas. CaliBurger would be more than happy to take the other 45 states for its own.
People in Seattle better order CaliBurger while they still can, or they could just make the trek to the nearest In-N-Out for the real thing.
Correction 9/16/15: In the original version of this article, it was stated that In-N-Out won the 2012 infringement lawsuit against CaliBurger, when, in fact, both parties settled. The article has been edited to reflect that fact.