The Best Kitchen Cutting Boards
As one of the kitchen's most essential tools, you want to have the best cutting board.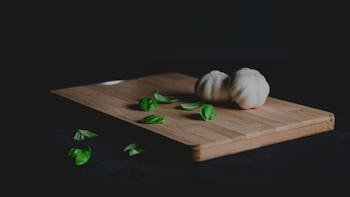 Unsplash / Sébastien Marchand
As a home cook, you've probably gone through your fair share of not-that-great kitchen tools. When you first moved out, you may have bought the cheapest of everything you could find only to later realize that it's all practically useless. When you have to replace something every couple months, the steal of getting a cutting board for $10 only to replace it five times starts to add up. When you're finding plastic shards in your food, getting splinters as you try to wash your wooden cutting board or developing unsightly and unappetizing stains, it's time to invest in a cutting board that'll actually last.
This doesn't mean expensive. This doesn't mean you have to invest in the same good cutting board that Ina Garten swears by. All this means is that you want to put your money into something that actually performs and holds up through nightly meals. If I did my job right, you got here by googling "best kitchen cutting boards" and rather than combing through dozens of Amazon pages and Google results, you've arrived at the one-stop shop for the best kitchen cutting boards.
Why We Picked It: Not only does Greener Chef offer lifetime replacements for their cutting boards should they ever split, crack, or splinter, but the bamboo construction is antimicrobial, and the built-in groove allows for no-mess clean up that traps any unwanted meat and vegetable juices from getting all over your counter. Available in three sizes, ranging from Medium (14.5 x 11.5 inches), Extra Large (18 x 12.5 inches), XXXL (30 x 20 inches), if you're an avid cook or entertainer, there's a size to meet every home chef's needs. The natural look adds style to any kitchen counter, and allows it to double as a great serving platter for cheese boards and bread. On top of all of that, not being made from plastic means you'll never have to worry about BPA leeching into your food—and it'll be better for your good knives than plastic.
Why We Picked It: Unlike wooden cutting boards that require regular maintenance and hand washing, these plastic cutting boards are maintenance-free, dishwasher-safe, and much larger and thicker than the competition. Chances are, if you've ever owned a plastic cutting board, you've noticed that it slips on the counter—a terrifying feature—but Gorilla Grip Cutting Boards come with rubber grips to keep them secure. These cutting boards come with deep grooves to catch any liquids for easy clean up and the fact that each set comes with three boards allows for easy meal prep of meats and veggies without cross contamination or clean up while you cook.
Why We Picked It: We've all been there: you're prepping to make a hearty winter soup, pasta sauce, or salad and you have to chop what seems like dozens of herbs and veggies. As you start to run out of space on the board and you've already exhausted all your Tupperware, you might find yourself overwhelmed. But with the Simpli Better Bamboo Cutting Board, you can easily push your already-chopped veggies or herbs into the built-in prep drawers that even come with lids for easy, prep-ahead storage. Like the others, there's a built-in groove for no-mess clean up, but this one sets itself apart as an awesome serving tool, thanks to its easy grip handles.
Why We Picked It: With a solid 4.5 star rating, these easy-to-clean plastic cutting boards are an amazing value. Made from high quality, BPA-free food grade plastic, if you detest the maintenance and hand washing of bamboo and wood cutting boards, you'll love these plastic cutting boards. Like all cutting boards worth their weight in salt, these cutting boards come with deep grooves for easy clean up, they're dishwasher safe and the dark coloring will prevent any unappetizing stains. On top of that, Chef Grids includes a bonus 9-inch knife and sheath for added kitchen functionality, making this a great housewarming gift for someone just starting out.
Why We Picked It: Complete with a lifetime warranty and an easy-to-store metal holder meets drying rack, this color coded cutting board set is non-slip, dishwasher safe, BPA-free and will prevent any and all possibility of cross contamination. When you know green is for your fruits, veggies and cheese, red is for your meats and blue is always for fish, you'll never mix it up. They're lightweight and easy to use, are compact enough at 9.25 x 7.75 inches to be kept out on the counter and should be a welcome addition to any fully stocked home kitchen.