'Illuminati Ball' turns CRISPR gene editing into sexy sci-fi horror
Cynthia von Buhler tells Inverse about immersive theater experience and the accompanying graphic novel due out later this month.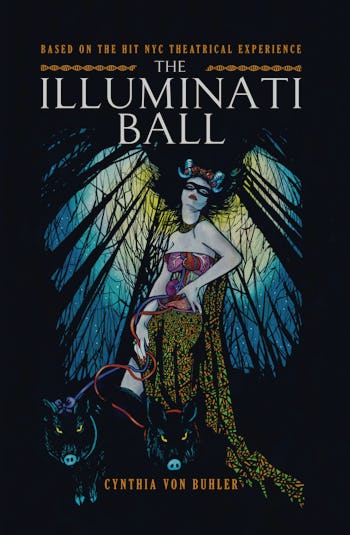 Titan Comics
In Cynthia von Buhler's latest graphic novel, The Illuminati Ball, the infamous secret society masks a deeper story exploring the ethics of CRISPR gene editing technology gone wrong, asking provocative questions about how society and nature might respond if humans created animal hybrids. Perhaps even more frightening: What if half-human, half-animal people are already living among us?
Through an immersive theatrical experience of the same name, von Buhler has explored questions about animal welfare and genetic manipulation since 2016, but the secret is out in her upcoming graphic novel scheduled for release on October 15. Published by Titan Comics, The Illuminati Ball offers an intimate look at the characters from the live performance, namely the Pig King and his host of monstrous masked companions. You'll have to read the graphic novel or participate in the theatrical experience to learn more, but regardless of the medium, with The Illuminati Ball von Buhler delivers a riveting cautionary tale about the dangers that arise when man plays God using science.
The same science used to make human ears grow on the backs of mice could one day be used to make full-on hybrids, a controversial but exciting prospect that films like Sorry to Bother You and the Rock's Rampage also worry about.
When The Illuminati Ball utilizes a masquerade ball as the setting, the end result winds up titillating and terrifying in equal measure. Guests might bathe in spider-milk semi-nude, but some of the characters also have hooves. It's the sexy stuff of nightmares.
"People who buy the tickets think they're going to an actual Illuminati ball," von Buhler tells Inverse. "But throughout the night, they find that there's something else underlying that." That holds true in the graphic novel, where an assortment of wealthy members of the upper class gather at what they think is a genuine meeting of the Illuminati. The reality of their situation is equally as sinister and provocative.
The whole thing is inspired by leaked photos from a swanky real-life party in 1972 hosted by Marie-Hélène de Rothschild and Baron Guy de Rothschild at a remote French chateau. Salvador Dali and Audrey Hepburn were just two prominent celebrities known to have attended. Having worked in immersive theater since 2011, von Buhler recognized this would make for the perfect setting for a show after her choreographer shared the pictures.
"I've always wanted to do a story about animals and their suffering," von Buhler says. "I thought, 'This is an interesting party, but I don't want to just have a party.' There has to be a story, a meaning, and a purpose."
She reckons that most people might ignore a more direct story about animals and the environment, so much like the human-animal hybrids who don surrealistic masks, so does The Illuminati Ball mask itself in a sexy shroud of mystery and intrigue. "I want to entertain people, but I do have a message I want to get across," von Buhler admitted. "I want to get it across in a way that people will end up enjoying."
The Illuminati as a plot hook reels in hundreds, perhaps thousands of people — horny or otherwise — who have interest in the "actual" Illuminati.
"You can text the Pig King, and he receives many messages from people every day from all over the world asking to join the Illuminati," von Buhler said. "It's frightening how much interest there is."
Who actually answers those text messages?
"The Pig King answers them," von Buhler says without a hint of sarcasm.
As a transmedia concept, The Illuminati Ball began as an immersive theatrical dining experience where 30 people would apply for access to a meeting of an illusive secret society. Problematic answers might disqualify some candidates — there's a lot of kinky stuff going on at these events, but they're strictly not sex parties.
Think of the dreamlike mansion party Tom Cruise attends in Eyes Wide Shut mixed with the mainstream appeal of the McKittrick hotel's Sleep No More in Manhattan (an experience so popular that even Broad City lampooned it in the final season.) Participants convened at a mysterious address somewhere in the city where they'd be blindfolded and whisked away to a remote estate somewhere north of the city.
There, indulging in a nine-course dinner and getting tipsy on exotic cocktails, the group would participate in an evolving mystery that involved initiation rites and plenty of nudity. The decadent experience transformed into a morality play about animals, nature, and science.
After three summers of that, The Illuminati Ball developed into an event with wider access at a former bank in Williamsburg called the Weylin, hosting a thousand people for an annual gala of mystery and intrigue. 2019 marks the first year the event will cater to a medium-sized group of around 350 people on October 4, less than two weeks before the graphic novel comes out and on the Friday night of New York Comic Con.
In all its forms, even as a graphic novel, The Illuminati Ball lures unsuspecting people intrigued by the sexy promise of a swanky party and a mysterious secret society. It's disarming and intimate across mediums, but subversively informative.
There's a segment of the graphic novel that dips into a convincing conspiracy theory about how a former Nazi scientist may have bioengineered a tick virus for the government at Plum Island off the coast of Long Island. What if a deer escaped the enclosure and made the swim to Lyme, Connecticut — and that's how we wound up with Lyme Disease? If genetic experimentation did lead to Lyme Disease, then what horrors might await in the future of the 21st century?
"CRISPR in many ways feels like science fiction come to life," von Buhler said. "It's real, and CRISPR is going to change life on this planet, for better or for worse." At least we can all have a little bit of fun while learning about the horrors scientific technology might unleash upon us in the future.
The next meeting of the Illuminati happens in New York City on October 4, and The Illuminati Ball graphic novel will be released by Titan Comics October 15.