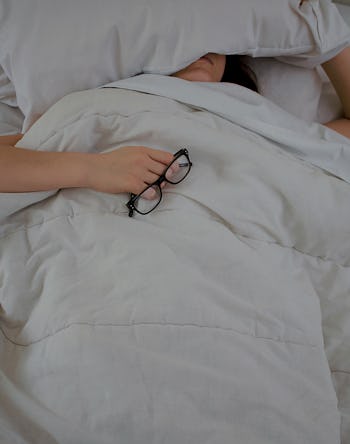 Innovation
Best Noise Cancelling Earplugs for Sleeping
There's nothing worse than not being able to sleep because your partner is snoring.
Unsplash / twinsfisch
Everyone needs to sleep. When we don't get enough of it, it's almost impossible to function the next day. And it's a known fact that prolonged periods of poor sleep quality can also impact our health. So whether you live with a spouse who snores like Paul Bunyan chopped wood or you're taking a flight and want to block out the sound of the engines—or that annoying seatmate—we've taken a look at some of the top noise-canceling earplugs that you can find on Amazon.
People use earplugs for a lot of reasons other than to get to sleep. If you use earplugs to protect your ears in loud environments like music venues, construction sites, or while riding a motorcycle, the Brison Noise Cancelling Ear Plugs are a smart buy. (Of course, they're also great for helping dampen the sound of a snoring spouse). This two-pack set is designed to gently conform to your ear while effectively reducing noise. Plus, the handy travel case with a carabiner makes it easy to take these with you, whether you're traveling or at work.
There's nothing worse than when you finally begin to drift off to sleep and a noisy neighbor, meddlesome cat, or a garbage truck rudely jars you out of dreamland. If you're a light sleeper, you know how frustrating it can be when random noises keep you up at night. Hearprotek's Sleeping Ear Plugs are specifically designed to cancel sound to as low as 30 to 32 decibels—and that translates to sounds no louder than a whisper. These earplugs feature a three-layer flange for a perfect fit that also helps to gently block out noise. Available in a two-pack with differing sizes, the Hearprotek earplugs also come with a convenient travel case.
If you need to protect your ears and grab some z's, but you don't want to spend a lot of money, the Anbow Waterproof Noise Reduction earplugs are ideal. While cheaper than the other models we've listed, the Anbow selection comes with three pairs of noise-canceling earplugs that are guaranteed to reduce noise down to whisper levels at 32 decibels. The ear plugs feature a silicone three-tiered flange design that is comfortable and effective in blocking out noise. Likewise, they're rated as waterproof, and come in a water-resistant carrying case so you never have to be without them.
Not everyone is going to find a comfortable fit with the standard three-tiered flange design that you commonly find. If you fall into this category, it might be time to upgrade to an option that allows you to customize your earplugs to the exact shape of your ear. The Decibullz Custom Molded Earplugs are guaranteed to block sound down to 31 decibels thanks to its patented triple-seal design. But the biggest draw is the fact that you can quickly customize them to fit the shape of your ear by heating the mold in boiling water, letting it cool slightly, and then inserting the plug into your ear. Best of all, you can remold them at a later date by repeating those steps.
Some people have a hard time keeping track of important items. If you're the type who routinely misplaces things, then buying a pricy set of noise-canceling earplugs might not be the best move. In that case, the Mpow classic soft foam earplugs are a more economical option for you. This container holds 60 pairs of earplugs that are designed to reduce noises to as low as 34 decibels—which is slightly louder than a whisper. The simple shape is designed to gently conform to the shape of your ear while still providing a comfortable fit. And like many of the other options we've outlined, the Mpow models also come with a travel case so you never have to be without your earplugs.