The 4 Best Bias Lighting Options for TV
Turn the living room into a home theater experience with a simple strip of lighting.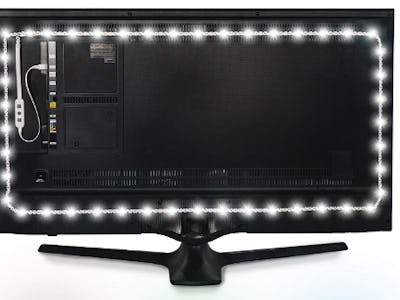 Amazon
The concept of "bias lighting" may sound like a makeup technique only practiced by the Kardashians, but in reality, bias lighting is a simple way to change your TV viewing experience forever. Because it's 2019, we spend a majority of our time looking at screens—and while it might not be putting your extremities under duress, your eyes are definitely taking a beating. To cut down on eye strain and eye fatigue, people are backlighting (or bias lighting) their TVs and computer screens to help creating a contrasting ambient glow to the harsh glare of the screen. It basically gives your eyes a break from concentrating on staring at one glowing section of a screen. Of course, people are taking this as an opportunity to really set the mood in their homes, making the ambient light available in multiple colors. To help give your eyes a break and to really help you set the Netflix-and-chill mood, we chose four of the most beloved bias lighting kits out there that are easy to install—and great to look at.
Fitting TVs from 30"-40" to 60"-70", Bason TV LED backlights are pretty much universally easy to us. A single strip offers home viewers 16 static colors, four dynamic modes, and eight levels of brightness to enhance their viewing experience. Using TV USB port, the lighting strip can be turned on/off in sync with most models, and is back with a strong adhesive backing so the lighting doesn't fall off (so long as you kept it dust-free) before applying. The packages comes with one lighting strip, USB cables, and a remote control.
This strip lightening turns off and on easily with your TV thanks to it's USB port. With 15 colors at 10 different brightness levels and a 1-fade mode, lighting is easy to customize. You can take your area from a neon-accented lighting to a simple warm white backlighting, making this not only a nice way to relieve your eyes, but a fantastic way to set the mood for the room. Installation is super simple: Just wipe down your TV, plan the lighting route, and viola! Instant, gorgeous backlighting.
Fitting up to 60 inch screens, this high quality LED strip light kit has a USB for aneasy plug-in. Wipe down the back of the TV and simply stick your LED strip with its adhesive backing. Using this LED bias lighting will help create sharper images by creating a visual contrast that lessens eye strain and makes for a beautiful picture. There are 16 colors to choose from, so it's easy to set the mood for your viewing pleasure.
Designed for flush-mounted TVs up to 65 inches or accordion mounted displays up to 75 inches, this is is a 3-way splitter rather than an LED strip. For larger displays, consider the larger Quad XL. 122 High-Accuracy SMD chips (LED's) with a four-way splitter (which offers almost three times as many lights as a single strip). While it doesn't offer an array of colors, it does promise full-surround lighting, and can be dimmed or brightened for exactly the right lighting contrast.