'The Goonies' to Become Immersive Theater Experience = Awesome
Hopefully you'll be able to take home some of One-Eyed Willie's rich stuff for yourself.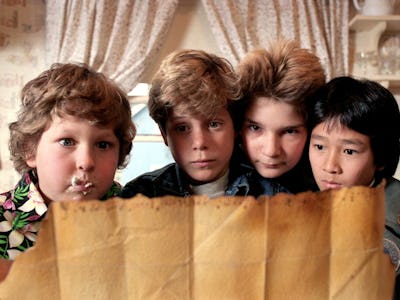 www.facebook.com/thegooniesmovie
While fans have been waiting for that endlessly-in-development sequel to The Goonies for three decades, Director Richard Donner just hinted at another way people may get to experience the adventures of everyone's favorite group of misfit kids from the '80s.
In an interview with Yahoo Movies, Donner explains why he wouldn't have gone to see the movie and, then, mentions that The Goonies is also being turned into an immersive theater experience.
We're going to do an off-Broadway, do you know what immersion theatre is? Where there's no seats, the venue is you go into a warehouse and there's something happening in that warehouse and that's the play you've come to see, only you become part of it and you travel through with actors. It's very popular now. We're doing one on The Goonies. It will take another year or so but it's going to be wonderful.
Donner has had a rich history of spinning yarns about this movie, in particular, but gathering a bunch of people in a warehouse and having them try to escape One-Eyed Willie's booby traps is too good of an idea to let slide. If they can manage to make it into a Sleep No More- or Real Escape Game-type situation where the clock is ticking, then it could be something special.
There are basically zero details about it at the moment, other than what Donner says, but the possibilities are endless. Maybe you'll have to outrun Mama Fratelli and a giant man dressed like Sloth could suddenly join up to help you. Hopefully players will occasionally be encouraged to do the Truffle Shuffle.
It makes us wonder what other types of movies would be good for this type of experience. Back to the Future? Indiana Jones? Basically anything vaguely related to Steven Spielberg from your childhood? All of that sounds amazing.
Donner says The Goonies experience should be ready in about a year, so fans should expect to see it sometime in 2016, but it could all just be wishful thinking. But, you know the motto: Goonies never say die!