6 iconic heroes who may appear in "Crisis on Infinite Earths"
Why stop at a 'Smallville' reunion? Here's a few DC supes we'd like to see crash the Arrowverse party.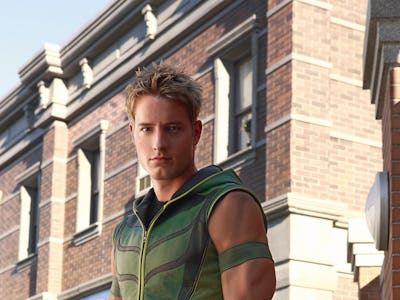 The CW
For a generation of kids in the mid-aughts, Smallville was the be-all, end-all when it came to live-action superhero television. Those kids, now adults, got a nice surprise last week when the CW announced the Arrowverse's multiverse-spanning crossover epic Crisis on Infinite Earths would feature Smallville's Tom Welling returning as Superman and Erica Durance as Lois Lane. They'll join a cast that will also include Brandon Routh, who's already appeared in the franchise as The Atom, suiting up as Superman for the first time since 2006's Superman Returns and Batman: The Animated Series voice actor Kevin Conroy returning in his most iconic role as Bruce Wayne — only this time in a live-action capacity.
From the looks of it, Crisis is shaping up to be a love letter to both the Arrowverse and the history of DC television as a whole — and it's hard to not wonder who else might show up. DC's television history spans decades and includes countless live-action and animated films. While certain choices seem a bit too ambitious (as much as we love Gal Gadot's Wonder Woman, the odds of her popping up are slim) there's a wealth of history to pull from. These are the actors we'd love to see revisit their former roles in Crisis on Infinite Earths.
Justin Hartley - Green Arrow (Smallville)
If we're bringing back Smallville's Clark and Lois, why not keep the reunion going? Hartley played Oliver Queen, The Green Arrow, on Smallville for years. Given the moment we live in now (one in which this entire TV franchise stems from a Green Arrow show, and where Hartley's role on This Is Us has him well on his way to being a household name), it seems like the perfect fit.
Jensen Ackles - Jason Todd (Batman: Under the Hood)
Way back in 2010 an animated adaptation of Judd Winick and Doug Mahnke's Batman story Under the Red Hood dropped. The story features the return of the presumed-dead former Robin, Jason Todd, as a gritty villain called Red Hood. In the film adaptation, he's voiced spectacularly by Supernatural's Jensen Ackles. It's a stellar fit, and Ackles even looks the part in real life. Given that voice actors are clearly on the table given Conroy's Batman casting, why not bring Ackles into the mix as a live-action Jason Todd? He's already a part of the CW family, thanks to Supernatural, which is wrapping up this year. It seems like a perfect post-Dean Winchester role.
Adam Copeland/Edge - Atom Smasher (The Flash)
In DC comics continuity, Atom Smasher is a superhero with the power to uh, get really big. (Trust us: it's awesome.) In the Arrowverse he's appeared once in the season 2 premiere of The Flash. Atom Smasher is played by WWE Hall of Famer and Vikings actor Adam Copeland, AKA Edge, The Rated-R Superstar. It's a great bit of casting, and acting chops aside, Copeland is a big dude who brings a lot of physicality to a role that very much requires it. Surprisingly, he never showed up again in the Arrowverse, simply appearing as a villain of the week. It's always seemed like a missed opportunity, so why not take advantage of a massive multiversal event to bring Copeland back as a superheroic Atom Smasher? It's the perfect excuse for him to make his return as the hero DC fans know him to be.
Lynda Carter - Wonder Woman (Wonder Woman)
This might be the easiest call of them all. Lynda Carter remains one of the most iconic superhero actors of all time. Her Wonder Woman defined the character for a generation, and remains timeless to this day. Admittedly, the chances of this one happening seem to have been shot down by Marc Guggenheim. But hey, we can dream, right? Carter returning as Diana would be a great moment in television. Hopefully they find a way to pull it off.
Adrianne Palicki - Wonder Woman (failed Wonder Woman pilot)
David E. Kelley's failed Wonder Woman pilot from way back in 2011 is something of a pop-culture landmark at this point, an infamous moment in superhero television that occurred just before DC figured out how to crack the code with Arrow in 2012. Turned down by networks, the pilot quickly leaked online and it's very much a relic of its time. That said, casting Adrianne Palicki as Wonder Woman is one of the few things it got right, and it'd be interesting to see her play the character under better circumstances - perhaps those provided by Crisis. The crossover already has nostalgia on lock with its Smallville reunion. Why not take the next step and try a "what could have been?" casting?
Clancy Brown - Lex Luthor (Superman: The Animated Series and more)
Forget Kevin Spacey and Gene Hackman. The greatest actor to ever play Superman's archnemesis is Clancy Brown, who began voicing the character on Superman: The Animated Series in the '90s and reprised his role over the course of numerous TV shows and animated movies. If Crisis is going to feature multiple Clark Kents AND bring the greatest Batman actor out from the recording booth for the first time, there's no reason the iconic Lex Luthor can't join them. You'd be hard-pressed to find an actor who knows the character better at this point and more Clancy Brown in movies and television is never a bad thing. Sure, he's already played General Eiling in the Arrowverse, but that isn't stopping Brandon Routh from throwing on the big red underwear. Give these heroes the villain they deserve. Give them Clancy Brown as Lex Luthor.