This company wants to pay you $1.3k you to watch 13 Stephen King movies
There are few better ways to earn some extra cash this Halloween season.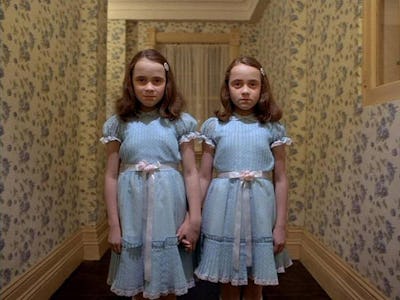 Warner Bros.
There are a lot of cool jobs out there. Some people get paid to draw comic books. Others make their money riding dirt bikes up giant hills and then doing flips in mid-air before landing. But as far as cool jobs go, it's hard to beat this proposal by Dish Network: they'll pay you $1,300 to watch 13 Stephen King movies by Halloween of this year.
Before you rush to put in notice at your day job, let's run through a few details first. First of all, this job is only going to one lucky soul and applications are already pouring in (the site actually crashed shortly after going live due to the influx of traffic). Second, you can't just watch the movies, you have to record your experience too. Dish is hooking up whoever scores this gig with a FitBit to track their biometric responses to the scariest moments in the films.
The company also expects its test subject to rigorously record each screening. Every bit of information, from how they react to the movie to who they watch it with to the part that scares them the most, is expected to be logged in great detail. There are going to be worksheet surveys provided, though keeping an additional journal is also encouraged. 
Here's the full list:
Carrie (original or 2013 remake)
It (original or 2017 remake)
Pet Sematary (original or 2019 remake)
If the winner manages to watch the 13 preselected movies and log them before Halloween they'll receive a $1,300 payday. Pretty sweet gig, right? The preselected movies aren't even all that bad! For that much money you'd think Dish wanted to make someone endure Maximum Overdrive and The Tommyknockers back to back, maybe throwing in Sometimes They Come Back to make it extra torturous.
While the list isn't devoid of utter stinkers, the majority of the movies are King classics. Carrie, The Shining, and Pet Sematary (remake or original, your call) all make appearances, as do gems like Cujo and Christine. There are a couple of entries that will really make you uh, earn that money though. Children of the Corn is at least something of a camp classic, but Thinner and Dreamcatcher are among the worst King adaptations out there. The former is at least something of a harmless, boring horror flick but Dreamcatcher is truly an all-timer when it comes to "How did this even get made?"-type King movies. You'll REALLY have to work for that money when it comes time to watch it.
They're capping it off with a movie theater gift card meant to be used for a ticket to go see It: Chapter Two or Doctor Sleep, whichever you prefer. This isn't part of the logging experience, just a nice way to cap off your King marathon.
As far as jobs go, this is about as cool as they come, especially around the Halloween season. You can apply online for the gig and provide an optional video showing off your Halloween spirit if you really want to convince them. Having an extra $1.3K in your bank account to spend on day-after-Halloween candy sales is a hard opportunity to pass up, so apply now to lock in your shot.