"Goddamn Hipster Douchebags": 'Sex&Drugs&Rock&Roll' Goes Normcore
FX's Leary joint gets full-throttle weird.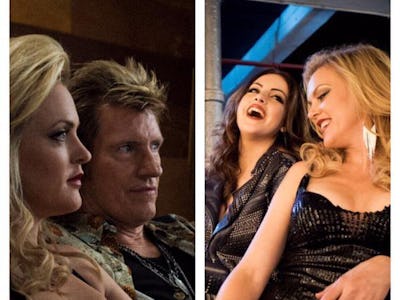 "Young and dumb and full of cum" — Johnny Rock
I have to say I'm impressed with FX's experimental short film series Sex&Drugs&Rock&Roll. At this point, crazy as it may sound, I look forward to my Friday mornings wrestling with its sordid charms. It took this episode — a comedy of errors about Johnny Rock essentially pimping Gigi out to a younger man who is the lead singer in a "normcore band" to prevent her from sealing the deal with Flash — which made me realize exactly what its brand of stilted sleaze reminded me of. Yes, folks, Episode 8 of Denis Leary warhorse S&D&R&R is definitely on some sub-Sandler shit, and in fact I think the show has been working up to this moment the whole time.
If there was ever an S&D&R&R that plunged you right in, it's this bad boy — Episode 8, a number that shall henceforth live in infamy. Curtain up: "I just want to go back to the crib and crash," Flash sighs after a long band practice. "Watch Game of Thrones." Does Johnny want to start watching GoT? Yes, on one condition: "I'm not gonna see naked midgets or anything, cause that's kind of a dealbreaker." If that's not in some draft of the Big Daddy script, then I'm David Spade.
Look, Gigi's young and vital; she wants to go out dancing, not just do tired as old-dude things with her squeeze Flash, who is going on sixty. The inclination to branch out from him, perhaps, is building in her, and Johnny exploits it when Ira — the band's manager — debuts his new act "Jim and Mike" for Gigi, Johnny, and the band. Jim and Mike are a noise-pop "normcore" duo dressed in "mall clothes" ("Looking douchey is the new not-looking-douchey," Ira explains).
This idea gives me such an intense headache that it's hard for me to unpack it. First of all, the band plays music with shoegaze-y distorted guitar and droning bass and staticky, lo-fi vocals. If this is "cool indie rock" in the S&D&R&R universe, then file that information to my conspiracy theory X-file: These scripts must have been actually written at least five years ago, and the "normcore" term patched in after the fact. This would explain why it is used completely nonsensically. (Later, Gigi quips that "Devonte Hynes is attempting to take credit for it," and I felt my very molecules beginning to fissure, or an overwhelming need for orange juice or an icepack.)
Meanwhile, Rehab and Bam (the Assassin's bassist and drummer) decide they want equal publishing splits, and then are laughed at and forget about it. They form a duo inspired by Jim and Mike that makes "beastcore" — music that samples animal noise. It's a dumb thread (feels like a crappy play on Jez's band from Peep Show) and Rehab and Bam's scene developing the idea takes about a quarter of the episode. But then again, every comic scene lasts a fucking lifetime.
Eventually, Gigi discovers that the studly Jim — who she has been traipsing around with in "vagina Jerry Seinfield" attire (thanks, Flash!) — is too much like her dad. Jim and Mike and a duo because Jim slept with the other band's girlfriends, and he's too much of a user and slacker to get the band off the ground. Uhoh! Does Gigi have a complex about sleeping with her dad? Call in Jung and the squad! Call this Jim shit off right away.
Flash runs to her jovially, to bear her off to his boudoir to get it on and then cuddle up to their favorite television program: the one about "a tiny little midget with a tiny little taint." Ah, my kingdom for a Vine of Peter Dinklage having this scene laid on him for the first time.
But hey, don't act surprised — you know how it goes with S&D&R&R. This episode was called "It's Hard Out Here for a Pimp," it had multiple taint jokes, and another fucking joke about Greg Dulli from the Afghan Whigs (a musical advisor of some sort to the show, I learned). It's established itself on its own level now, giving you both exactly what you'd expect and always something more — maybe some new stone-age sexual politics — you didn't even know were possible.