Apple Watch Series 5 reviews show why the always-on screen is a big deal
It could be the factor that makes people jump in.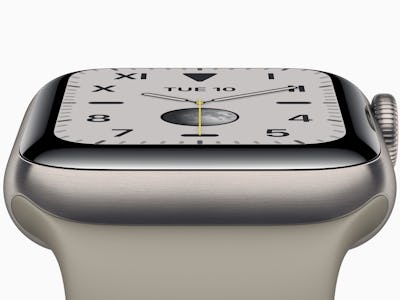 Apple
The latest-generation Apple Watch is almost here. Reviews released Wednesday, two days prior to the official launch, suggest Apple is set to continue to dominate the smartwatch market. Its standout feature, the always-on screen, could bring in the exact users Apple needs to target with the watch.
The Apple Watch Series 5, unveiled last week, starts at $399 for one with a basic sports band and aluminum casing. Different casings and bands push the price up, but they all come with the same internal chips. New to this year's lineup is premium ceramic and titanium casings. For the first time, users can also mix and match their own casings and bands with the Apple Watch Studio instead of settling for a predefined combination. The third-generation watch is also available at $199.
Beyond externals, relatively little has changed about the watch. It still has the same 40mm and 44mm case sizes, the same electrocardiogram sensor for detecting abnormal heart rates, the same fall sensors that can call emergency services, and the same health tracking that encouraged users to take daily exercise.
"The Apple Watch has helped me personally get in shape," YouTuber iJustine said in her review of the Apple Watch Series 5. "I love hearing the stories about how the Apple Watch has changed people's lives, and I am definitely one of them."
There's a smattering of new features in a watch otherwise identical to last year's model. It now supports emergency cellular calls internationally, and it now has a compass for better satellite navigation. New in watchOS 6 is new noise and menstrual cycle tracking, boosting the watch's health capabilities for both old and new devices.
Perhaps most importantly, it has an always-on screen so it functions more like a real watch. Research from GBH Insights in 2017 suggested that 70 percent of third-generation buyers were buying an Apple Watch for the first time. That same year, the company announced that the watch was not only the number one smartwatch in the world, but the number one watch overall. Considering how many buyers are new users rather than those upgrading, this could be critical to targeting the fence-sitters.
Apple Watch Series 5: always-on screen
With the new Apple Watch, Apple has resolved one of the biggest issues with the watch. Instead of having to press a button, touch the screen or make a dramatic wrist movement to activate the screen, users can now discreetly look at their watch like a regular timepiece.
Reviews suggest Apple has pulled it off.
"I love the always-on screen on the Series 5," Dieter Bohn wrote in his review for The Verge. "Apple's implementation is better than other smartwatches I've used for two reasons: it legitimately doesn't hurt the battery life as much, and Apple keeps a little color visible in ambient mode."
The watch uses a low-temperature polysilicon and oxide display, a mix of low-temperature polycrystalline silicon thin-film-transistors found in regular displays, plus indium gallium zinc oxide thin-film transistors. In layman's terms, the watch mixes two different display technologies and plays up to each of their strengths.
For the always-on mode, the screen kicks into a low-brightness mode that refreshes once per second. It only works with the clock and fitness apps, and only while on the wrist, but it provides a quick way to see the time without doing the dramatic shake.
"And an always-on display serves a real purpose when you're standing on a crowded bus, riding a bike, cooking or are otherwise occupied," Edward Baig wrote in his review for USA Today.
Apple Watch Series 5: compass
The Apple Watch, like the iPhone, now includes a compass. Also like the iPhone, this feature is used primarily for navigation in the mapping app.
"The compass seems steady. but coming out of restaurants or subways can still confuse it for a moment, leading to that hey-where-am-I-going feeling," Scott Stein wrote in his review for CNet. "Yes, it's annoying. But, like always-on displays, a compass on a smartwatch is good to have."
Apple Watch Series 5: new casings
The watch now also offers titanium and ceramic casings. While ceramic previously emerged on the third-generation watch, titanium is new to the lineup. The lightweight-yet-strong metal is prized as a premium material in watch circles, making it an ideal for Apple's lineup.
Apple has tried to position the watch from the start as a fashion accessory instead of just a fitness band. The original version was available in a $10,000 gold version, an offering quietly ditched with later versions. Apple has also maintained a partnership with Hermes to offer special leather bands for its watches.
"The big question still looms though: Do you really want or need premium materials and increased prices in a device that you're most likely going to want to replace annually (at least for the next few year)?" Stephen Pulvirent wrote in his review for Hodinkee. "I think that's still very much a personal decision and it's hard to fault people for coming down on either side. Materials like ceramic and titanium, being both functional and still relatively affordable, make much more sense to me than solid gold at this point, but I'd be very surprised if we didn't continue to see the Edition collection ebb and flow over the coming years."
Apple Watch Series 5: is it worth buying?
The watch has solved some of its biggest issues, but it still lacks a couple of features not found in other watches. Sleep tracking, a previously-rumored addition, is still missing.
"The long-awaited addition of sleep tracking failed to materialize for this model — one of the few places where Apple continues to lag the competition," Brian Heater wrote in his review for TechCrunch. "Of course, adding such a feature would require a much more robust battery than one capable of getting 18 hours on a charge."
So, is it worth buying? That depends on whether the watch does what you want it to yet. If not, it may be worth holding off.
"Taking into consideration that 70 percent of Apple Watch buyers are new, then the Apple Watch Series 5 is worth buying," Todd Haselton wrote in his review for CNBC. "I don't think you need to upgrade from the Series 4, and I don't think Apple is really worried if people are planning to are not. I'm making the upgrade because I like the always-on display and the compass for navigating around the city. Some people won't care about that."
Users that have been holding off making the jump may find something that appeals to them in this new version.