The Best Portable Projectors Under $200
Better than a phone screen, less hassle than a T.V.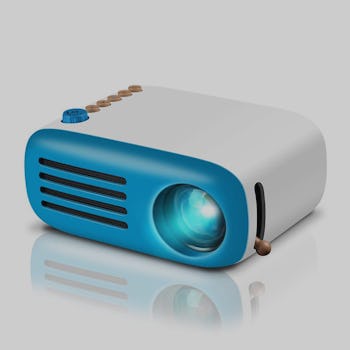 Amazon
One fun fact about 2019: televisions are optional. With streaming services like Netflix, Hulu, Amazon Prime, and even cable companies opting to reformat their programs to fit your personal devices like a phone or laptop, owning a T.V. almost seems antiquated, like a record player or something (@JoeBiden).
Yet the demand for enjoying movies and shows on a large screen hasn't really died down. This is based purely on anecdotal evidence, given my friends' disappointed reactions to my 13" Mac screen when I want to show them something.
Sensing this gap, the Inverse team gathered the perfect device for all of us noncommittal techies: a portable screen projector! See below for more information on these easy-to-use devices, and shop our picks below:
We know it's just above the $200 mark, but this pick won't break the bank or your bag—meet the Vamvo Mini Projector. It features a hallmark compact design, with dimensions at 5.7, 3.2, and 0.9 inches and weighing only at 0.6 lbs., meaning you can take this baby anywhere. The Vamvo Mini Projector supports AirPlay, DLNA, and Miracast technologies, as well as popular devices such as your iPhone, iPad, Android devices, laptops, PCs, MacBook, XBOX, PS3/PS4, and more. onto the 130"large screen for all your big-screen viewing needs. It comes equipped with a lightning cable, USB cable, or Type-C cable. This projector isn't all brains; it streams content in vibrant color and sharp image with a max resolution of 1080p. It also comes with an 18-month manufacturer warranty, so stop reading and start watching!
If you love your phone, you'll love this: with the TOPVISION movie projector, your smartphone or laptop becomes a portable theatre with the USB cable directly—HDMI adapter and Wi-Fi environment not necessary! Just plug in your phone and hit play. It's also compatible with the Amazon Fire TV Stick, as well as most smartphones, tablets, TVs, laptops, USB sticks, and DVD players. Its LED projector is upgraded to 2400lux, which is brighter than other 1800lux led projectors. The lamp light itself is incredibly long lasting, with the manufacturer's claim that you can enjoy the home theater for 30 years without changing the lamp of this photo projector. The mini projector technology adopts a contrast ratio of 2000:1 and 16:10 aspect ratio. It comes with a focus ring around the lamp for manual adjustment convenience. What's not to love?
Meet the GooDee Mini Projector. Small in design, at only 5.3-3.9-2.36 inches and 0.59 lbs, this is made for the techie who loves quality streaming but who is also constantly on the go. The GooDee comes equipped with multiple ports for a bevy of device connections, including HDMI, USB, Micro SD card, audio and AV interface. It has an adjustable projection and gives you a crystal-clear frame, plus a projection size of up to 60 inches. Armed with quality speakers that can deliver clear sound for optimal movies, shows and games experiences.
One of the lightest projectors on our list, at just .44lbs, the APEMAN Mini Projector is built for travel. Complete with a built-in battery and long-lasting lamp (a lifetime up to 45,000 hours), it has no need for electricity. So just connect to your laptop, TV Box, DVD, tablet, camera, PS3/4, smartphone and other select devices via the built-in HDMI port to enjoy a plethora of shows, movies, and games. You're able to project a screen size of up to 100 inches. It doesn't compromise on aesthetics, providing a 70 percent brighter image and 50 percent sharper image, with a 854 x 480 native resolution. Bonus: it comes with a tripod with fully functional 360 degree rotation and firm stand.
If you're dying to recreate the vintage drive-in movie theatre vibe, we've got you: the QKK Mini Projector is designed for indoor and outdoor movies in the dark. It supports a 1920*1080 resolution with up to 50, 000 hours long term lamp life, plus a 2000: 1 contrast ratio and a 32-176" big screen display at a distance of 1. 5M-5m, specifically with an ideal distance is 3. 5M with 120" display. It has a double USB port designed projector and also has HDMI, AV, VGA, SD Card ports, which allows you to use it with a laptop, PC, TV box, TV stick, Chromebook, tablets, Blu-ray DVD player, SD card, USB flash drive, media players, smartphones, and more.