6 Long Sleeve Henleys You Need Right Now
A wardrobe staple that's perfect for fall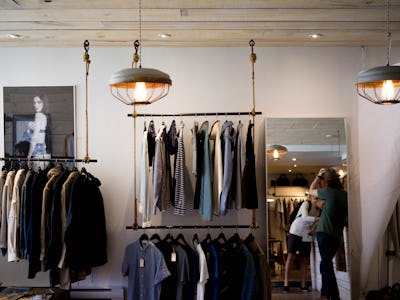 Unsplash / Clark Street Mercantile
If you're like many men, your wardrobe is full of graphic tees, and then you have a few button-down shirts. But the shirts you can wear to brunch, on a date, or to a casual work event are few and far between.
I would like to introduce you to the Henley! It's the t-shirt's dressier older brother. It comes in an array of subtle interpretations. But you should own some. It solves some of those "What do I wear?" problems. You'll see.
We found six for you to consider. You need one for winter. Maybe two. And some for cool weather, in long sleeves. And a few to replace your graphic tees—when the weather is warm or you are wearing a jacket—when those are too casual.
Carhartt is the master of workwear. The clothes are comfortable, durable, washable, and reliable. And this henley is a Carhartt staple. It fits well, keeps its shape, and comes in 10 great colors. You could fill a drawer with these, never buy another shirt, and still have something to wear in ten years.
So if you are stocking up—or shopping for the apocalypse—put some of these in your cart.
This J.Crew Mercantile Slub Cotton Henley is a terrific upgrade from your everyday tee shirt. An open collar with buttons mixes up what is, otherwise, a deliciously comfortable cotton tee. The fabric is soft! So if you are one of those people who squirms in scratchy fabrics, add this to your casual-but-not-a-slob day wear collection.
You need a shirt that looks dressy - ish. You don't want a button down because that would be going too far. You can't wear any of your graphic tees. Where does that leave you?
Out on your own, that's where. This is your chance to express some personality. And this shirt has that. It has texture, first. It's made of linen. So even though it is understated, it doesn't need to do any more. The fabric is luxe and Southern gentleman-looking. The details are low key but classy. Note the frog button on the collar? You don't need many shirts like this—unless you live in the tropics, in which case stock up—but you should have something that expresses that retro-you, no?
This is the perfect winter shirt. You can wear it to dinner. You can wear it camping. You can wear it alone. Wear it under a warmer layer. It is comfortable — even if you don't like to wear wool. It looks gorgeous on. And it never smells. (Really!) You could, seriously, wear it camping and then wear it out to a fancy dinner. And no one would know you were wearing your camping base layer.
Buy one. You will be back next year for three more.
Sometimes you just want a light, cotton shirt that looks good on you, isn't another tee shirt, and doesn't cost a fortune so you can have six of them. Here you go. Short sleeves. Long sleeves. Plenty of colors. Fill a drawer with them and have stop running out of clean clothes well in advance of laundry day.
A simple, short-sleeve Henley. Nicely made. Fairly priced. And there are a ton of great colors if you want to get away from wearing black and grey all the time. It's lightweight in 100 percent cotton so this is a shirt you will throw on all the time. And it will keep getting better the more you wash it.