4 Best Podcasting Microphone 2019
Put your best voice forward with the microphones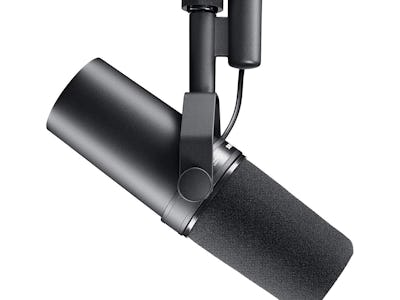 Amazon
If you're thinking of jumping on the bandwagon and starting your own podcast, congratulations. While it's a lot of work, it can be a lot of fun. While it can be intimidating and a tad expensive, buying a great microphone is going to be your first big step in the process. There's a lot to learn about the types of microphones out there and finding the right one can be hard. To make your search easier, we're going to break down some of the best podcasting microphones you can find right now.
The Blue Snowball is a popular option for people just starting out in the world of podcasting. Not only is is by a popular brand, but the Snowball is incredibly cheap for what you get. This condenser microphone connects to your computer via USB, is easy to setup and get to recording.
We'd suggest this as an option only if the price point is all you can afford, and it will undoubtedly serve its purpose for you. However, if you're budget is a little more flexible, the next option will provide a much better experience.
If you want a quality microphone that gives you some flexible options and is well known as a go-to podcasting mic option, look no further than the Blue Yeti.
The condenser microphone offers 3 condenser capsules within it, allowing for crisp recording in a variety of situations. You can easily control the recording pattern as well, including cardioid, bidirectional, omnidirectional, & stereo. Volume control, gain control, and a mute button are conveniently located on the micrphone, and it ships with it's own adjustable stand.
The Blue Yet is a "does it all" type of USB microphone. It provides high quality recordings without reaching the prices of more professional, more expensive microphones out there.
If you're really getting serious, you can grab the Rode Procaster, which is a broadcast-quality dynamic microphone. Since it is a dynamic microphone, it can be a bit more forgiving than some condenser microphones out there, like the Blue Yeti.
Inside, you'll find an Internal shock mounting of capsule for low handling noise as well as an internal pop-filter to reduce "plosive" sounds. The resulting recordings from this microphone are as advertised: broadcast-quality, which is definitely a good place to aim for your podcast.
The Procaster microphone offers an XLR connection, which can be connected to another audio interface. If you're either not interested or just want a simple microphone to plug directly into your computer, the Podcaster is a USB variant of the Procaster, showing that Rode has your back.
If you're looking to go for broke and get a microphone that will knock your socks off, then Shure is certainly one of the brands you should be looking into. The Shure SM7B in particular is a highly-popular option and is a cardioid dynamic microphone that produced the ultimate crisp, clean audio recordings.
This is hardly a beginner's microphone, and this type of professional microphone needs some real recording/microphone experience for it to sound as good as it can.