The 4 Best Masturbation Sleeves
Because sex toys should be for everybody and every body.
by Maria Del Russo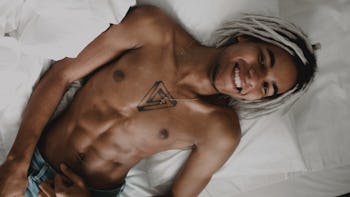 sibashouse/fotolia
People may joke and sneer over the idea of a pocket pussy, but let's be honest—when done well, they're actually incredible tools for masturbation. They tend to be textured inside for a more realistic feeling, and since you ejaculate into the sleeve, you can get off without making a huge mess. But the pocket pussy has come a long way from the toys your friends once teased you about. This guide breaks down the best masturbation sleeves (all of which you can buy on Amazon for extra ease and just about the most discreet shipping possible).
There are some important care instructions to keep in mind before you start going to town with your new toy, however. The most important thing is lube: You'll need to use a lot of it, and you need to make sure it isn't silicone-based, as a lot of these strokers are made from silicone. (Using a silicone-based lube with a silicone toy can lead to the toy breaking down.) It's also important to clean your toy immediately after every. single. use. Leaving semen in there can breed bacteria, so make sure to keep it nice and hygienic.
Don't let past judgements of pocket pussies turn you off. Ahead, find the best masturbation sleeves on Amazon.
It's impossible to talk about masturbation sleeves without mentioning the Fleshlight. This is the masturbator that started it all, and it's a classic for a reason. The inside tube is realistically-textured and super snug, which delivers serious sensation each time you thrust. It's molded to look like a realistic vulva, and the medical-grade silicone material is soft and flexible, which adds to its lifelike appeal. Fleshlights are also easy to clean: They screw apart seamlessly and can be cleaned with just soap and water. You can get this one in three different colors, too.
Amazon customers have plenty of opinions when it comes to, well, anything they buy, and sex toys are no different. According to them, the Tracy's Dog Pocket Pussy is the best male masturbation sleeve available on the site. It's a number-one best seller and has over 500 five-star reviews, plus an overall rating of 4.5 stars.
Like the Fleshlight, this pocket pussy is designed to look (and feel) like a real vagina: it has a 3-D ribbed texture inside and the silicone material was constructed to feel like skin. It's also easy to clean, packaged discreetly, and waterproof. Basically, it checks off every box and then some—not to mention its affordable price point.
This pocket pussy is ideal for people who don't want to choose between oral or vaginal stimulation. Its dual-sided design provides you with both options: The vagina side is molded to mimic a real vulva, while the other side looks (and feels) like an actual mouth, complete with lips, a tongue, and plastic teeth. Designed to be tight but stretchy enough to accommodate any penis size, the interior features a ribbed, realistic-feeling texture, like the other options on this list.
If you're looking for some hands-free fun, this high-tech masturbator, is equipped with a strong suction cup and can be mounted onto any solid surface and positioned along a 145 degree curve. This high-tech sex toy also rotates, thrusts, and moans: Choose from three different moaning sounds and 10 different rotating and thrusting speeds for an experience that comes as close to the real thing as possible. Unlike the other options on this list, this one has a clear canal you can see through; like the other toys on the list, however, this masturbator has a ribbed interior texture for added stimulation.