23 Useful Things Under $15 on Amazon That Thousands of Reviewers Swear By
Satiate your need to impulse shop while buying something useful.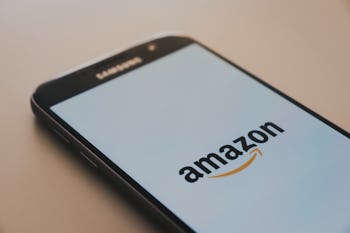 Unsplash / Christian Wiediger
Sometimes the wind blows a certain way and instead of replying to pressing emails in a timely manner, you click one of the many newsletters in your inbox and find yourself aching to buy something. When you don't know what that is, but you can't knock the feeling, this article is the kind of place you'll find yourself. But if you're like me, it's not the things you need—like Ziploc bags, paper towels and dryer sheets—that'll give you the rush of a true impulse buy. Instead you want something that you didn't know even existed and can now imagine all the uses you'll get out of it.
Whether you opt for the convenience of a toilet bowl light, an ultra-cute tea infuser or a mini waffle maker that does more than just waffles, you don't have to spend big to satiate your need to impulse shop. On this list, you'll find 23 of the best items on Amazon for under $15 and with thousands of reviews, you can feel confident that your money is actually going toward something useful.
Why We Picked It: Not only is this Deep Tea Diver the cutest thing you'll see today, it's also a great eco-friendly alternative to disposable tea bags. Made from BPA-free silicone, this non-toxic tea infuser is a great gift, is easy to clean without any fuss because it's dish washer safe and the magnetic weight on the end keeps your diver anchored while your tea steeps.
Why We Picked It: This all-natural toothpaste uses activated charcoal to naturally whiten, strengthen, treat tooth sensitivity, relieve bad breath and keep you and your mouth feeling your best. Combining vegan ingredients like Baking Soda, Diatomaceous Earth, Tea Tree Oil, Coconut Oil and Peppermint Oil into the perfect blend of breath freshening toothpaste.
Why We Picked It: Perfect for closets, pantries, hallways, garages and more with lighting issues, these stick-anywhere LED lights only require AAA batteries to work. Complete with easy-to-install double sided adhesive pads and a built-in magnet, these lights can literally go anywhere. With the included PIR Motion and Light Sensor, the light will turn on if it senses motion within 10 feet and shut off within 15 seconds if no further motion is detected.
Why We Picked It: No one likes to see a driver on the highway next to them staring directly down at their phone while trying to navigate to an unfamiliar destination. Keep yourself and fellow drivers safe with this hands-free phone holder for your car. Compatible with most smartphones, this silicone cradle uses gel pads to stick to the dashboard and will not leave any damage or residue behind. Not only that but the unique clamshell design prevents glare, phone overheating and more.
Why We Picked It: Crafted to be both gentle and effective, this exfoliating brush is perfect for all skin types, has a easy grip for use in and out of the shower and will aid in the reduction of hyperpigmentation, dry skin build up, ingrown hairs, razor bumps and more. You'll love the feel of the soft polymer bristles against your skin and will look forward to it regularly.
Why We Picked it: If you're ever reluctantly pulled your hair back during a moment of heat and then taken it down a few moments later, you might have been disappointed to find a crease at the center of your head where your hair was tied back. Rather than resign yourself to a life of keeping your hair down and getting hot, these traceless rubber hair bands will keep your hair secure without messing up your hair.
Why We Picked It: Whether your bedroom has too-much natural light, you spend a lot of time on planes and trains or you just like using a sleep mask, you've probably found some along the way that don't live up to their promises. This high-quality sleep mask has memory foam nose rests, an adjustable headband that'll never be too tight or too loose and has special contours so it won't press on your eyes. This is an ideal option for insomnia, migraine, dry eye and headache sufferers.
Why We Picked It: With over 1,400 glowing reviews, this easy-to-use herb stripper is a no-brainer. Perfect for saving time when cooking with fresh ingredients, this herb stripper has a variety of different sized holes to strip kale, chard and collard greens without any fuss at all. Not only that but the curved edge doubles as a herb chopper for one-less thing to clena. When you're done, just load it into the top rack of your dishwasher for effortless clean up.
Why We Picked It: First of all, for $10 a pound of product, you really can't get a better deal than this. This is my personal favorite mask—and you can use it on more than just your face!!—and one pound will last me well over a year. Over 17,400 reviewers rate this product over 4.5 stars and the single ingredient nature and added security sticker of this product guarantees you know exactly what you're getting. No additives, fragrances or animal products, you can mix this product with water, your favorite oil, apple cider vinegar and more until you find your perfect concoction.
Why We Picked It: We're always looking for new ways to zap pimples in an emergency as they seem to show up at the absolute worst times. This extra-gentle pimple patch goes on clear, includes no drugs or harsh chemicals, is certified vegan and cruelty free by Leaping Bunny and protects your blemish for your picking hands, unwanted germs and more for faster healing without any of the dryness of usual spot treatments.
Why We Picked It: We love reusable products and nearly 5,000 reviewers agree that these are the go-to silicone baking mats for anyone tired of purchasing wax paper, parchment paper and tin foil. They're oven safe up to 480 degrees, fit half sized baking sheets perfectly, minimize clean up and any need for cooking sprays and oil.
Why We Picked It: Not all teething tools are created equally and as a busy parent, you might not always be close to a freezer to use the frozen options, but you still don't want your baby to suffer. This teething mitten is ideal because infants of all ages can hold it easily and the BPA-free silicone is non-toxic and easy to clean with your regular load of wash. The included crinkle feature will stimulate your baby's senses for a wanted distraction from sore gums.
Why We Picked It: Whether you're not a big cook or breakfast is your go-to meal, this ultra-compact mini waffle maker makes excellent paninis, frozen pizzas, hash browns and pretty much anything that you can fit inside of it. A must-have for vacation homes, RVs, your office and even your first apartment, it's as easy to use as plugging it in and it'll take up virtually no space at all. As one of Amazon's best sellers, over 4,400 reviewers are also obsessed.
Why We Picked It: If you frequently work with odorous ingredients, this stainless steel bar will absorb unwanted odors from your hand with ease. Simply rub it between your hands and the smell of onions, fish, shallots, garlic and more will leave your hands without issue. Use like a regular bar of soap with or without water and for easy clean up, simply toss it in the dishwasher with your regular load. Over 1,800 avid cooks agree that this is a kitchen must have.
Why We Picked It: Available in Green, Red and Classic Red, this ultra-affordable knife sharpener is a must-have for any kitchen. You can have the best knives in world and they'll be useless if they're not sharpened well. Alternatively, you can have not great knives and if they're sharpened well, they can compete with even top tier knife options. This compact knife sharpener has Patented Edge grip that'll stick firmly to table tops and counters without slippage. Sharpen dull knives with the coarse side and touch up already sharp knives with fine side for maintenance that rivals professional quality.
Why We Picked It: If you've ever used a bad vegetable peeler, you've probably never wanted to try another one ever again—the experience is that bad and that frustrating that you might give up cooking altogether. But, not all vegetable peelers are created equally and this one is backed by nearly 3,000 raving reviewers. Unlike many comparable options, this vegetable peeler is dishwasher safe and includes swiveling blades that make peeling anything a breeze.
Why We Picked It: All you have to do is google "avocado related injuries" or talk to your favorite medical professional to hear all the horror stories of avocado cutting gone wrong. This all-in-one tool has a soft non-slip grip to help things go smoother and the stainless steel pitter removes the pit with a quick twist. The slicer will give you perfect pieces every time for Instagram ready meals at home. Did I mention it's dishwasher safe?
Why We Picked It: Good, yet still affordable make up brushes are hard to come by so when you find a set that has over 7,000 glowing reviews and a solid 4.5 star rating, you better jump at it. Made from soft synthetic fibers, these brushes are firm for delivering the right amount of product but soft as to not feel rough on your skin. Bristles won't shed and you'll quickly buy a second set.
Why We Picked It: One cast iron skillet is never enough and while you can always go bigger, you might have thought you could go smaller. For frying to perfect egg, making a personal pie, or adding some pizazz to serving small appetizers, this miniature cast iron skillet comes from beloved American brand, Lodge and is 100% crafted in the USA. Over 13,000 reviewers are smitten by their Lodge cast iron.
Why We Picked It: Unlike traditional disposable nail files, glass nail files can be cleaned with a little soap and water, then rubbing alcohol — and because it's glass, it doesn't rust, corrode, or rot. Because of this, the only reason you'll ever need to buy another one is if you're giving one as a gift, or buying extras to keep at your office and in your bag. Given a solid 4.5 stars by over 2,000 reviewers, this glass nail file will strengthen, smooth and harden your nails to reduce chipping, splitting and peeling.
Wy We Picked It: When you're a guest in someone's house, at the office or anywhere in public, you might not feel your most comfortable when you have to go. Give your mind a rest and restore comfort with this Before-You-Go Toilet Spray. Simply spray before you go and the delicate blend of essential oils will element odors before they even have a chance to become an issue.
Why We Picked It: If you're the type to spend hours in the hot tub or bath, you may have found yourself lusting after a pillow. This large 2-panel pillow is thick enough to support your neck, shoulders and back for even the longest baths. The included 7 suction cups keep the pillow conveniently in place and allow it to fit any size tub.
Why We Picked It: Going to the bathroom in the middle night can be a kind of extreme sport if you don't have any conveniently placed night lights illuminating the way. Take it a step further with this $10 LED toilet light with 5 dimmable light settings, 16 light colors, motion and light detection among the amazing features that bring this item a 4 star review from nearly 4,000 reviewers.
Why We Picked It: There are so many uncomfortable bras out there that when 7,000 people boast that this bra is the most comfortable, you can't ignore it. This full coverage bra from Playtex has no underwire and has 5 panels to provide the most natural shape and support. Available in a huge range of sizes and colors up to 36DDD.
Why We Picked It: With a solid 4.5 star rating from over 3,300 reviewers, this amazing vitamin C serum is a natural but gentle active ingredient in incorporate into any anti-aging skincare regimen. When twodrops is all you need, this 30 mL bottle will last you forever and at $11, it's affordable enough to use every day. It'll gently exfoliate your skin to smooth, hydrate and plump skin so you always look your best.