4 Best Indestructible Dog Toys For Aggressive Chewers
Thwart even the worst chewers with these toys.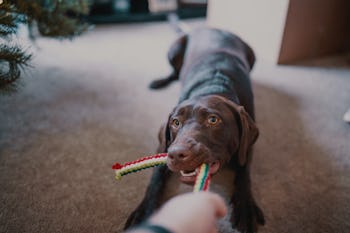 Pexels
It's a truth that dogs love to chew. Unfortunately for many of us, they often love to chew our carpet, belongings, and everything else they can get their paws on. That's why we try and occupy them with toys—but not all dog toys are made equal. If you find yourself with a canine friend that can utterly destroy any toy you put in front of them, you might want to enter the market for toys that are marketed toward "aggressive chewers." These toys should hopefully withstand your dog's powerful jaws—and then some.
If you find that your dog is constantly breaking their regular toys, consider getting a Kong. Made out of black rubber, these toys are flexible and bouncy, nut extremely difficult for dogs to chew through or damage. Plus, you can even fill it with treats and goodies for your dog to work to get to, meaning they'll be stimulated while chewing, and that's good news for the both of you.
This fun dinosaur toy isn't just a great way to occupy your dog and help clean teeth and reduce tartar. It's also an extremely difficult toy to break or chew through. It won't budge, tastes like chicken, and will help freshen your dog's breath and massage their gums. It comes in three different shapes that your dog probably won't care about, but at least they're cute.
Channel your dog's love for sticks with this clever, durable chew toy. Make of real maple wood, it's shaped in a way your dog can handle it and get a good chew flow going, and it looks enough like a real stick that you can even trick them with for fetch. Best of all, it's extremely tough so should make it simple to last for months without splintering up or breaking apart when your dog chews.
This quirky red bone is made of a durable, non-toxic material that can even float and bounce. Best of all, it's virtually indestructible. It can stand up to torrents of wear and tear, and it's extremely durable. It's also brightly-colored so you know exactly where it is and if your pet's got their toy chewing it or some of your carpet instead.