The 4 Best Portable Monitors 2019
The best portable monitor screens you can get.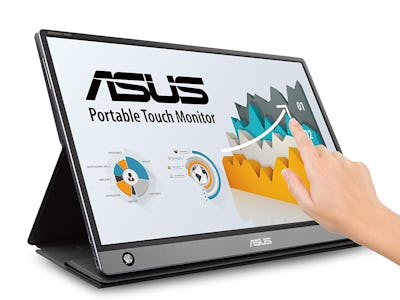 Amazon
If you're in the market for a portable monitor, there are more than a few available. While it really depends what you intend to use it for to determine the features to look out for, it's fairly easy to pick out a not so good option, so we're here to help.
For instance, if you just need a second screen to monitor reports on at work, you probably don't need to buy a touch screen monitor. Below, we're going to show you four great options that span different sets of features.
If you have the money to burn, there aren't many other options that check all the boxes the Asus ZenScreen MB16AMT does. The 15.6-inch Full HD (1920x1080) display has a lot going for it.
There are three different options to choose from: one with USB Type C & A, one with USB Type C, Micro HDMI, and built-in battery, and one with USB Type C, Micro HDMI, battery, and touchscreen. All models share folding smart cover than can be turned into a stand in either landscape or portrait orientation as well as stereo speakers.
The fully tricked out Zenscreen with touchscreen isn't anything you'd call cheap at $350, but it seems more than a little justified. Even with the cheaper models, you're getting a lot of monitor, done up in Asus style.
Another range of portable monitors that gives you all the features you could want are made by Gechic. In fact, the entire lineup can easily go toe to toe with the Asus Zenscreen pack. That said, though you'd get more bang for your buck on the Asus offering if you're going for the top-end model. For this reason, the middle tier monitor from GeChic is a solid option for this price point.
The 15.6-inch FHD monitor is USB powered, so it can't run on any sort of battery power. Still, this should hardly be a big issue given that it'll likely be hooked up to a device that will power it up anyway. Speaking of hook ups, the monitor offers both HDMI and VGA options—the idea of having a VGA port is a bit dated, but this is a monitor, so it makes sense. It also has built-in speakers to boot.
This is also one of the thinner and lighter options you'll be able to find out there. It's only 11mm thin, which is impressive, given all that's packed inside. Moreover, it weight under 2 pounds, which is lighter than most 15.6-inch competitors and won't weigh you or your bag down.
If you need more pixels than 1920x1080, going for a 2K screen really won't give you the "wow-factor" you're looking for. Instead, you might as well go 4K. Luckily, UPERFECT has just the monitor for you.
Not only is this a 4K monitor, it also supports HDR, which should make watching supported videos a dream. Its port selection is lacking a bit, offering only a mini HDMI port, Mini Display port, and a micro USB port that can't be used to power it. Still, it's a great monitor, that's cheaper than some of the lower resolution options, though they offer other features, like touchscreens.
For under $300, this is probably the best 4K portable monitor you can get your hands on.
If you're not looking for super fancy features in your portable monitor and you're also not looking to pay over $200, you still have some great options available to you. One of the best is the ASUS MB169B+, which gives you the essentials you want with an unmatched style.
The 15.6-inch IPS Full HD monitor offers great viewing angles compared to non IPS panels. This particular model shares quite a bit with the higher-end brother above, including the smart cover that can be used as a stand for the monitor and can be used in both landscape and portrait orientations. This monitor is nearly as light as the GeChic option above (only a couple of grams heavier) and super thin at only 8.5mm.
What you don't get with this monitor is a lot of options. It's powered by a single USB 3.0 cord and you have little else to work with. Still, for this price, what the ASUS MB169B+ does do, it does very right.