3 Mattresses You Can Test Out for 100 Days or More Before Committing
Don't drop all that cash before an evaluation period.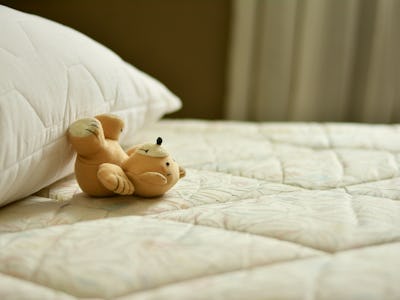 Amazon
Buying a new mattress is a big commitment, both in terms of cash out of your pocket and the length of time you'll likely use it. That's not to mention all the time you'll be sleeping on it. It's best to make sure you buy one you like since you'll be stuck with it for a while. Luckily, these mattress companies know what's up, as they come packing an entire year's worth of a trial to make sure you know what you're getting and like it. Here are some options in the event you're in the market for a new mattress to lounge on.
1. Nectar Memory Foam Mattress
This memory foam mattress gives you a lengthy 365-night home trial so you can try it for an entire year. It's made of quilted gel memory foam and a cooling cover to ensure you can stay comfortable while not too overheated overnight. It also has a breathable base layer that offers a stable foundation while offering plenty of support on the other layers as well. It also has a forever warranty, meaning you can get a replacement any time, no matter how long you've had it. If that doesn't offer some security for you, we're not sure what will.
Customers apparently liken sleeping on a Casper mattress to resting on a "dreamy cloud." That's probably due to its four layers of foam and tech that lets air escape so you can still remain cozy but cool. You get to try it for 100 nights risk-free, and it comes in a box that makes it simple to get out and set up without any sort of difficult moving or installation process. Plus, all Casper mattresses come with a 10-year warranty in case you have any issues with it long beyond its initial 100-night trial.
This roomy, adaptive foam mattress is pressure-relieving, but still soft with plenty of bounce and support. It uses gel and graphite to keep you cool, and will stay durable without keeping you hot or uncomfortable, no matter the temperature. Most importantly, you get to try it out for 100 nights to make sure it's comfortable for you. It even comes delivered in a small, economic box that you can unpack and let it expand on its own to cut down on frustrating installation. Don't like it after spending over three months with it? Just send it back for a 100% full refund.