Best Wireless Security Cameras
Know your home is safe... even if you're away.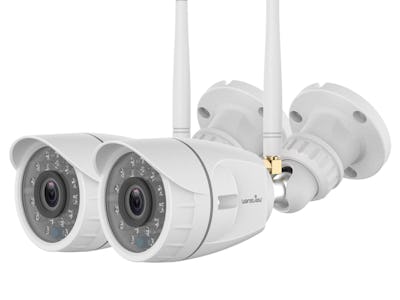 Amazon
When I was a kid, I was super paranoid. Maybe it was good common sense, or maybe it was all the R-rated movies I watched at my best friend's house, but I was always a little bit on edge—especially when home alone.
I begged my parents to get one of the new home security alarms or a surveillance camera, just to be on the safe side. They went with a dog instead. And while Mickey was my best boy and sweet little brother, he wasn't the best guard-Corgi.
As an adult, I've recently been looking to invest in my own security system. I settled on a Ring doorbell (it's fabulous!) but my tiny apartment doesn't need too much protection.
For those of you who are real adults and actually have a home you'd like to protect with nonstop video surveillance, we present to you several distinct options for all of your wireless security camera needs:
Consider this your big security investment. It is 100% wireless, so no tangles, and is totally weather-resistant, so they can be installed anywhere indoors and out. The Arlo Pro cameras have a 2440mAh rechargeable battery as well as high-speed Internet. It comes armed with a built-in mic and speaker with push-to-talk capability, so you can listen in and talk back. You can also live stream or view recorded video and audio for up to 7 days for ultimate surveillance. Works with Amazon Alexa/Echo Show/Fire TV/Google, so you don't just have a SmartHome, but an armed SmartHome.
The Wansview outdoor security camera looks like it belongs in the military. I can't confirm that but I don't see why it wouldn't: fit comes fully equipped with a 4 Megapixel HD lens and delivers 1080PHD video content day & night to protect your home no matter wherever you are. The camera works with 2.4G WiFi only and wirelessly works with the Amazon Alexa. It also comes armed with 24pcs of built-in infrared LED and night vision distance up to 60 feet so you don't miss anything. Its sturdy design works well under harsh weather, and it can capture motion activities and send you real-time updates. In between these moments, you can check it yourself via the app. Rounding out its security features, the Wansview is financially encrypted so your privacy is secure too. Plus, you got a one-year warranty, so there is nothing to lose.
So maybe you want to monitor the inside of your crib. That's cool, meet the BOOCOSA-USA Wireless Camera. This isn't your average security camera: you can save videos to your SD card or phone to make sure all your recorded videos are safe and protected. You can have multiple BOOCOSA cameras on a single account to truly curate the view of your home. It comes armed with a motion tracker and two-way audio surveillance camera, specifically catching 11 seconds of motion tracking records and centers moving objects. It features a mobile app for on-demand updates, and can auto cruise up to a full panoramic 360° shot of your space. Including advanced infrared night vision with built-in 940nm infrared LED beads, what are you waiting for?
Think of it as a baby monitor… but for your fur baby. We're talking 3MP (2304x1536) high resolution to capture beautiful and smooth live video streaming. Boasting 350°pan & 100° tilt and 8X digital zoom can deliver every corner of your home. In addition to motion detection, the Conico Pet camera features sound and face detection, and you can get instant alerts once the wireless camera detects dog barks. Its motion tracker technology picks up your pet's movements. It comes fully equipped with a built-in mic and speaker, so you can talk through the camera and be there even when you aren't physically home. With a night vision covers the range to 32 feet, you and your best friend will be safe and monitored day and night.