The Best Wireless Chargers of 2019
Break free from the wire with these wireless charger.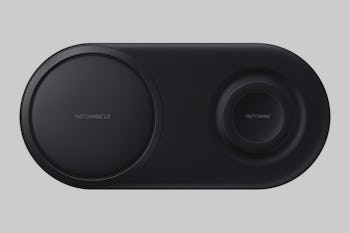 Amazon
While wireless charging is technically still a technology that's not completely vital for the smartphone industry, it sure is a welcomed feature that's luckily becoming more commonplace. It's basically expected on a flagship smartphone at this point, meaning that wireless chargers are bountiful—no matter what type of smartphone you have.
Below, we're going to break down some of the best wireless chargers you can get for 2019!
Note: Given that the Qi Wireless Charging Standard is practically the only standard found on smartphones today, all of the chargers listed below work with both iPhones and Android phones, but specific features may vary.
If you've gone all into Samsung's Android ecosystem, and have a Galaxy Smartphone and a wireless charging supported Galaxy accessory, this is for you. The Wireless Charger Duo Pad allows you to charge up to two devices at once. This means you can charge your Galaxy S10+ on the larger charging pad and either your Galaxy Watch or even your Galaxy Buds on the smaller pad. This type of convenience makes the Charger Duo Pad a must-have for Galaxy fans.
If there was a downside to the Charger Duo Pad, it would be that it uses the older Quick Charge 2.0 and not the more recent 3.0.
Don't have an accessory to charge? Not to worry. If you only have a Galaxy smartphone, Samsung has you covered there as well. It's also one of the best wireless chargers you can find in general.
If you're looking for the best wireless charger around that will give any phone the best experience across the board, the RAVPower wireless charging stand is where to look.
Don't worry if you've never heard of RAVPower before, but they're fairly prominent in wall and wireless charger space. This particular stand offers two coils to wireless charge your phone, whether it's standing upright or in landscape mode. It also both supports Quick Charge 3.0 and comes with a QC3.0 adapter. This will allow compatible Android smartphones to be fast charged charged at 10W and iPhones at 7.5W, which is slightly faster than the 3.5W-5W standard.
The best part is that this wireless charger is only $50—and gets strong reviews from Amazon.
The Anker PowerWave Wireless charging stand could easily take the place of the RAVPower option above, but it sits in this spot due to its cheaper price point (at the time of the writing). Normally more expensive than the RAVPower charger, but essentially identical in terms of features, you can't go wrong.
The Pixel Stand was created solely for the Pixel 3 and Pixel 3 XL, and if you don't own one of those two phones, move along. It's an expensive charger, and only the compatible Pixel phones are capable of taking full advantage of its charging speed and other features, which include turning the phone into a digital photo frame while it's charging, and the ability to turn into a "wake up light" that will slowly get brighter with warm colors to mimic the sunrise.