6 Best Wireless Earbuds You Can Get for Less
You don't need to pay Airpod-level prices.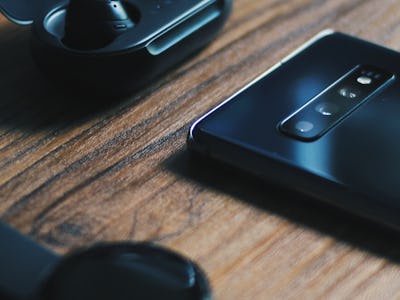 Unsplash / Rasheed Kemy
If you're ready to upgrade to a wireless headphone but don't want to spend half your rent on them, we've got you covered with a selection of sleek earbud-style headphones that offer all the functionality of pricier models, but for only a fraction of the price.
Wireless earbuds don't need to be expensive to be effective. These TOZO earbuds feature Bluetooth 5.0 with hi-fi stereo sound so that you get an immersive listening experience whether you're playing back audio or using them for a phone call. The headphones are easy to pair with your phone's Bluetooth and can pair with both iPhone and Android devices. But these TOZO headphones take it a step further by offering water-resistant functionality for a depth of up to a meter for as long as 30 minutes of continuous submersion. The headphones come with a wireless charging case that can provide up to three and a half hours of continuous use per charge and can support an additional nine hours of charging before the case needs to be recharged. And, the case can be charged wirelessly as well.
Some people really love white earbuds, but they're not for everyone. Cshidworld's sleek black wireless earbuds are a great alternative to the common white versions. The Bluetooth 5.0 makes one-touch pairing possible while HD Stereo guarantees clear audio whether you're making a call or listening to music. With just one charge, you can get seven hours of continuous playback. The included wireless case will charge your earphones up to five times before you need to recharge it.
If you prefer earbuds that are as sleek and design-focused as they are functional, then the Beben wireless earbuds with Bluetooth 5.0 technology and IP68 waterproof capability are a must-have. The easy one-step pairing makes using these earbuds a breeze while the waterproof rating means that you can also use the earbuds at the gym or even during rain or snow without the risk of sweat or other moisture impacting their performance. Switch between dual and single-mode and best of all, enjoy five hours of continuous use with a single charge. The sleek charging case can charge your earbuds up to four times before it must be recharged. The lightweight earbuds also come with a range of small, medium, and large ear clips to ensure a comfortable fit.
If you have your heart set on the Apple AirPods but sticker shock is stopping you from taking the plunge, the I9X wireless Bluetooth earbuds are a great alternative for significantly less money. Not only does this version offer popular features like HD quality sound and easy pairing, but you also get noise cancellation. Enjoy an environment free from distractions with the CVC echo noise reduction. That means you can be focused on phone calls and your music. These earbuds also feature a wireless charging case that will recharge your earbuds up to 4 times when it's fully charged.
If you're an avid outdoor enthusiast or gym-goer, you might find that traditional earbuds still slip from your ears because you sweat. It's gross, but it happens. In that case, even though you like the idea of wireless earbuds, you still need something a bit sturdier so that you're not focused on your technology instead of your form. The LETSCOM sports earbuds feature ergonomic ear hooks on both buds to guarantee a comfortable and secure fit. Control buttons are located on the right earbud for quick access to adjusting the volume, track selection or to answer and end calls. Plus, these headphones still offers other popular features such as Bluetooth 5.0 for one-touch pairing, water resistance to sweat and moisture, clear audio and playback capabilities and battery life indicator that appears on your devices.
Another budget-friendly option is the Topicy's wireless earbuds that are similar in design to pricier models but still offer plenty of great features. To start, Bluetooth 5.0 means you can easily pair them with your devices. And the brand also guarantees up to 200 hours of standby battery time. Use these earbuds in unison or you share an earbud with someone else and pair them with separate devices. The single-touch button allows you to answer and end calls, as well as play and pause music. Enjoy six hours of play or talk time between charges and the case will fully charge them eight times before needing to be recharged.