PAX West 2019 Preview: 7 of the Biggest Games to Watch This Weekend
'Cyberpunk 2077,' 'Final Fantasy VII Remake' and 'Marvel's Avengers' are among the highlights.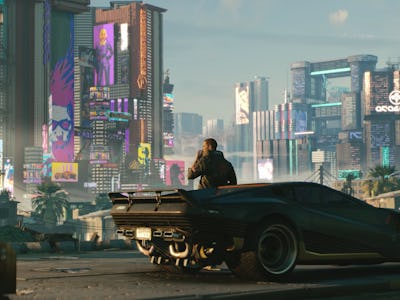 YouTube
PAX West, a four-day celebration of all things gaming in Seattle, kicks off Friday, August 30 and runs through the holiday weekend, wrapping up on Monday, September 2. With virtually every major game developer and publisher peddling their wares on the showfloor and sharing the latest details online, it can be hard to know what to look out for over the weekend.
We're taking a closer look at seven of the biggest upcoming games likely to generate buzz during and after the show. It's likely to be a standout show for Square Enix and Nintendo, continuing the 2019 trend of outstanding Japanese-made games and Switch titles.
Cyberpunk 2077
The latest from CD Projekt Red, the team behind the much-loved Witcher 3: Wild Hunt, continues to be one of the most ballyhooed upcoming games of the year. (Keanu's in it, you guys!) This is despite having stirred up a whole lot of controversy over ill-advised "jokes" about transgender folks and the game's handling of gender in its character creation system. (Earlier this week, members of the dev team said they were doing away with gender choice in this portion of the game in the aim of making it "really inclusive.")
While CDPR won't be on-site in Seattle — the company announced it was pulling out of the show last week, vaguely citing "many logistical (and some creative) reasons" — the developer will mark the first day of PAX with a streaming event slated to show 15 minutes of new gameplay footage, along with interviews with some of the studio devs. That stream airs at 2 p.m. ET Friday on Twitch or Mixer. It's sure to get people talking, for better or worse. The game is due out on PS4, XBox One and PC April 16, 2020.
Final Fantasy VII Remake
Four long years after Square Enix's shocking announcement that it would pursue a ground-up remake of the best-loved installment in its long-running Final Fantasy series, the modern retelling of Cloud Strife's mission to save the world is almost ready to rock the socks off a new generation of fans. Well, sort of.
The first in a yet-unknown number of installments of FF7 Remake is slated to come out March 3, 2020. It will offer an expanded version of the Midgar section of the original story — essentially, it's Disc 1 of the four-disc 1997 original. So at this rate, fans can expect to relive epic the final battle with Sephiroth sometime around 2065.
Snark aside, the game's jaw-dropping visuals and nimble, action-driven combat system snagged numerous awards at E3. So far, everything indicates this one will be worth the wait. While we may see more Midgar gameplay that's likely to send the game's sizable Western fanbase aflutter, don't expect much in the way of new footage or character reveals at PAX: Square Enix is likely to save those goodies for Tokyo Game Show in mid-September.
Marvel's Avengers
The first footage from this long-awaited game debuted to a rough reception at E3 back in June, mostly due to MCU fans being cheesed off the in-game characters did not resemble their beloved Marvel Chrises. But on the heels of Gamescom (Europe's answer to E3), there's fresh reasons for hope and hype for Square Enix and Eidos Montreal's take on the superhero genre. Those attending PAX will likely see the Gamescom demo as well.
With an emphasis on zippy action combat, the game finds our heroes licking their wounds after Taskmaster triggers a massive explosion in San Francisco. Cap is nowhere to be found, and scores of civilians are dead. You'll tackle a variety of missions as either Thor, Iron Man, Hulk, Black Widow, with more familiar characters set to come to the game (for free!) post-release. It's no small task to live up to the impeccable standard set by last year's Marvel's Spiderman for PS4, but there's still a lot more we've yet to learn about Avengers ahead of its multiplatform release, slated for May 15, 2020.
Pokémon Sword and Shield
Nintendo Switch's first mainline Pokémon game will be playable at PAX this weekend, so expect a spate of social media reactions chronicling fans and critics' impressions of the Gen 8 'mon, tweaks to combat, and the all-new Galar region as we inch closer to its November 15 release.
Sword and Shield will introduce some of the mechanics of the mobile smash Pokémon Go, like collaborative Raid Battles, into the core games for the first time. It also brings some new combat elements to the series, including Dynamax, a special move that allows your l'il monster pal to temporarily grow to Godzilla stature and launch more powerful attacks. Gyms, where players can battle rival trainers, will return to the series after being absent from Pokémon Sun and Moon.
While the Gen 7 games were set in the Alola region, loosely inspired by Hawaii, Sword and Shield takes an aesthetic cue from England, a mix of stately neo-classical architecture and cosy cottages dotted atop rolling verdant hills. Fittingly, among the most talked-about new additions is Yamper, an electric-type Corgi Pokémon with a lolling tongue and a star on his butt. (Yes, he's adorable.)
The Outer Worlds
Notably the sole brand-new IP on this list, Obsidian and Private Division's latest was an instant favorite among critics at E3, sparking favorable comparisons with Fallout: New Vegas. There's irreverent humor, lots of frenetic gunplay, and a keen emphasis on branching conversations and player choice. The story plops players decades into the future, on a drifting colony ship in the remote Halcyon solar system. Outer Worlds encourages exploration and wandering around new planets to meet all sorts of interesting space weirdos to hang out with. You'll be able to recruit some of these characters to join you on a more permanent basis. In typical open-world fashion, you're free to adopt a mostly "take it or leave it" approach to missions and quests. It's a welcome throwback to a genre that's since moved on to more of a games as service model, to its detriment. (Looking at you, Fallout 76.)
The Outer Worlds comes to PS4, Xbox One and PC October 25. A Switch version is planned for a yet unannounced later date.
Legend of Zelda: Link's Awakening
While Google Stadia and Xbox Scarlett fanfolks continue to work themselves into a lather over framerates, Nintendo continues to gobble up market share by embracing the notion that great gameplay is timeless. Link's Awakening is a ground-up remake of a 1993 Game Boy title that holds a special place in the hearts of die-hard series fans. One of the few Zelda games to take place outside Hyrule and without the titular princess, it finds Link on a remote island, tasked with finding eight musical instruments to awaken the island's deity and thus make his way back home.
If you had the good sense not to sink dozens of hours into playing a game on a three-inch, puke green screen (or were simply too young to catch the game its first time around), Link's Awakening promises to be a fun, colorful adventure that shares a common bloodline with the SNES classic A Link to the Past. Coming to Switch September 20, the action-adventure game blends classic retro graphics with modern 3D panache, and is a good pick for those looking for some swords-and-sorcery action on the Switch after having exhausted all the routes on Fire Emblem: Three Houses.
Trials of Mana
While Squaresoft (later Square Enix) is rightly heralded as having produced some of the best role-playing games of the SNES era, a number of its best-loved titles were never released outside Japan. Some 24 years after its initial release in Japan, the sequel to Secret of Mana is finally coming to the West with a spiffy new 3D remake.
With six possible main characters spread across three interwoven storylines, it builds upon the fun, hack-and-slash combat of Mana with more in-depth narrative, a day to night cycle that affects the kind of enemies you'll encounter and richer character customization options. Sure, you can play the throwback localization on as part of the Collection of Mana bundle Square Enix released in June, but we're waiting for the enhanced version with all the modern whips and jingles, slated for release in early 2020. Expect to see some early impressions of the game coming out of PAX this weekend.
PAX West runs from August 30 until September 2.