Best Reel Mowers for Your Lawn
Reel mowers cut your grass with scissor like precision.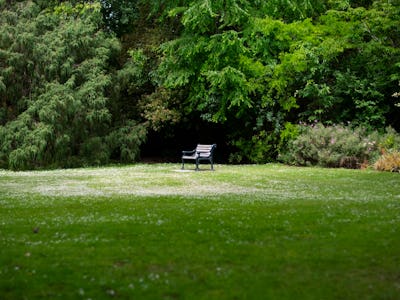 unsplash 
Any homeowner will tell you that a beautiful lawn is serious business. Generally speaking, homeowners don't take lawn care too lightly. It's labor-intensive work that requires time, effort, a good attitude, and the right equipment. But the battle rages on to determine which type of mower is the best in class. The war continues between reel mowers and electric mowers, gas mowers and electric mowers—the list goes on. If you happen to be in the reel mower camp, we've done some digging and found a few of the best reel mowers out there.
The American push reel lawn mower is a highly rated 5-blade reel mower that offers precision cutting every time. The t-shaped handles are ergonomically designed and the height is adjustable for superior comfort and maneuverability. With blades made of high-quality steel, your blades will remain sharp and your grass will look sharp for years to come.
The Greenworks reel lawn mower is a 2-in-1 unit with a rear bag and mulching capabilities. A 16" cutting path and 4-position adjustable cutting height helps you get your lawn maintenance done quickly and efficiently while 10-inch front wheels and rear rollers provide a nice assist.
The Earthwise push reel mower delivers scissor-like cutting action for your grass giving you a healthier looking lawn, with each cut. The low maintenance reel mower takes all the headaches out of mowing your lawn. No cords, no low gas, no lost keys, just push and go.
While other types of mowers hack and tear grass blades leaving them susceptible to disease, the Great States push reel mower cuts each blade of grass like a pair of scissors. T-handle styling, 10-inch wheels and rear rollers all work together to make easy work of lawn maintenance. Leaving you more time to enjoy the great outdoors.
Scotts has established itself as a trusted household name when it comes to lawn care. And their classic push reel lawn mower is no exception. The classic reel mower has a 20-inch cutting width, and heat-treated alloy steel cutting blades stay sharper longer. The Scott classic reel mower is lightweight and easy to use, with no gas, oil, or noxious fumes around you or your family.