5 Life-Changing Things Under $15 on Amazon That Every Cat-Owner Needs
Including a 29 piece toy set.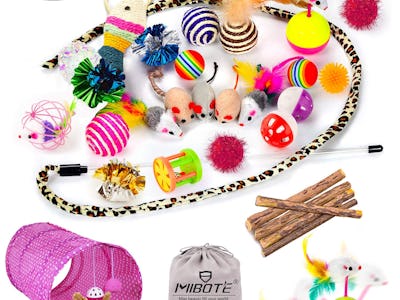 Amazon
Taking care of your cat doesn't have to cost a fortune. If you're a cat owner, you are probably familiar with the excitement of introducing a new toy to your feline friend. Wouldn't it be great to have that all the time? Whether you need a self-dispensing waterer or feeder, or a way to keep your pet off your furniture, there are solutions to these problems. Here are some of the best deals available right now on Amazon for under $15 that every cat-owner needs.
Why We Picked It You can use this cat repellent to keep your friend off your for furniture, plants, curtains, electronics, or anywhere that might have delicate items you're worried about breaking. The best part is that you'll find it has a pleasant smell for you, while still keeping your cat away.
Why We Picked It You and your cat will never get bored with this 29 piece set of toys. It comes with everything from fake fur mice to an assortment of plastic balls to play with, all of which will lead to hours of play and fun.
Why We Picked It This fun toy is battery powered and will self rotate 360 degrees around your house while also emitting a red light. It also comes with a detachable feather. The rechargeable batteries will last for 2 hours of play.
Why We Picked It You'll find this self-dispensing pet feeder and waterer incredibly helpful. You'll always be able to make sure your cat has enough water and/or food with minimal effort. It'll also keep water and food fresh if you ever need to leave your cat alone for a few days.
Why We Picked It You'll surely have fun play blowing and popping bubbles with your feline friend. Your cat will love how Catnip Bouncy Bubbles smells, while also engaging in an interactive activity by jumping around to pop the bubbles.