Everything We Know About Gucci Mane's Movie 'The Spot'
It's a comedy, and you can watch it on digital outlets in October.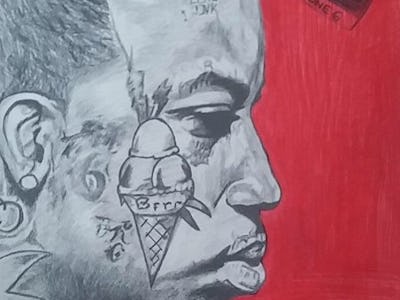 Instagram
Currently-incarcerated Atlanta rap legend Gucci Mane has been posting a lot about his madcap comedy-drama The Spot on his social media accounts lately — at least, the shadowy figures who run them for him have been. Though word of the movie is now spreading in earnest on the hip-hop blogosphere — and he's now touting the soundtrack as well — the trailer that's currently going around was uploaded to WorldStarHiphop in 2012 — soon after Gucci's feature film debut as a combative drug dealer in Harmony Korine's Spring Breakers.
After such a long delay and Gucci's imprisonment, Gucci fans might have considered The Spot to be an unfinished project lost to time. Then again, that's what we said that about Zaytoven's movie. Also, Gucci is known for liking to release as much of his creative handiwork as humanly possible.
There is, by all accounts, a firm release date for The Spot: October 17th (10/17, as in 1017 Brick Squad Records — Gucci's label's favored time for drops). It is to be made available on iTunes and other digital outlets, though there are no pre-order pages up yet.
It stands to reason that this would have been filmed quite a while before Gucci even went in. After all, he alienated at least two of his co-stars (rapper Rocko and singer Keyshia Koir) in a notorious 2013 Twitter rant (the one where he also claimed to have slept with Nicki Minaj).
Is this Gucci rushing to get his opus out due to the unexpected, now-proven commercial viability of hip-hop cinema? Most likely, the individuals who run the Gucci Mane #brand in his absence — either assembling his mixtapes and outsourcing his social media to clickbait-loving PR companies — advised him to do as much. Between this, the Master P biopic, and whatever else will inevitably come along, it should be an interesting couple of years for rap-related movies.
The preview belies a pretty heavy Goodfellas influence. It comes across like an archetypal gangster film concept — though set in Atlanta's Zone 6 — and features a conversational voiceover with freeze frames doing most of the expositional work. There's also some evidence of some rap-game-mumblecore improvised dialogue.
If you've ever listened to a Gucci Mane interview you know that he's both a funny, laconic, and intense personality all at once, certainly someone who would be fascinating to watch for an hour-and-a-half or so. If that isn't enough incentive for you to click "Rent" on 10/17, well … OJ da Juiceman and Young Scooter appear as side characters.