3 Matching Dog & Owner Halloween Costumes
Who says you need a date to do a traditional "couples costume" this Halloween?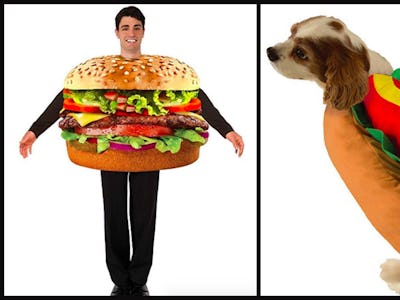 Amazon
It has been scientifically proven there is nothing cuter than a dog in a costume. The costume itself doesn't really matter—seeing a pup in some getup that no dog was ever meant to wear is reward enough. And what better way to add a little razzledazzle to your pup's costume than to match with him, couples' costume style? Seriously, show up to a party with a pooch for your "date" in a matching costume and I can almost guarantee you'll be coming home with more than just your dog. Here are five brilliant ideas for you and your pup.
When there's something strange in the neighborhood, who you gonna' call? Your pup! This hysterical costume can fit a multitude of breeds, but be sure to read the size chart before purchasing. The best part of this costume has to be the inflatable pack, this way your pup has the right accessories without causing any strain.
What is a Ghostbuster without a ghost to bust? This really detailed Slimer mask only needs an all-green ensemble to complete the look. Plus, people will get a kick out of your doggo being the hero, and you being "the bad guy."
If your dog is even part "weiner dog" this costume is perfect. The tunic is fairly lightweight and really made for smaller breeds. All you have to do is wrap it around your pet's back and you'll instantly have one hot dog. This costume is perfect for the pooch who loves summer (and loves to steal human food).
What goes better with a hot dog than a burger? Look like a summer smorgasbord with this costume. The foam tunic top pulls over any top and bottom you feel like wearing, though black looks best for effect. This costume offers printed full coverage from front and back, and fits most, with the max being anyone with a size 42 inch chest.
Your dog can somehow weasel his way onto the bed even though you swore he'd never be allowed in it and can get you to dispense treats with one pout. Perhaps dogs are low-key Jedi masters by nature? Either way, this simple costume is roomy enough to not totally irritate your dogs, though we make no promises about the hood.
Defend the galaxy alongside your dog by going as OG Luke Skywalker. This costume is super comfortable, and comes with tunic, pants with attached boot tops, and a belt. All you'll need is a lightsaber, and you'll be ready to take on any Sith.