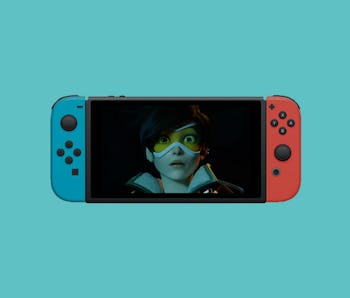 Entertainment
Nintendo Switch Owners Could Soon Get a Fan-Favorite Shooter, Reveals Leak
Could this be Switch's next port?
Nintendo / Blizzard
A leak of an upcoming accessory for the Switch dropped a massive hint of what could be next on Nintendo's third-party agenda, suggesting Blizzard's team-based shooter Overwatch could become available on the hybrid console soon.
The Nintendo Switch is shaping up to be the Japanese gaming company's most successful console of all time. That's in large part due to its portability, iconic first-party games and extensive third-party partnerships. Nintendo has released a number of popular third-party titles like The Elder Scrolls V: Skyrim, Rocket League and Fortnite for the Switch this year alone. Nintendo has sold more than 36 million Switch units since launch as of June 30, and the console's impressive lineup of ports will likely continue to drive sales.
Gaming accessory manufacturer PowerA posted an Amazon listing for an Overwatch-themed Switch case on Monday. The post was quickly removed, but gaming leaker Wario64 snagged screenshots of the item and tweeted them out.
The case is mostly black with orange accents and the circular Overwatch logo on the front. The leaker said the description for the bag said it was "Officially licensed by Nintendo and Blizzard Entertainment."
Blizzard brought its dungeon crawler Diablo III to the Switch in November 2018. Nintendo also released a limited edition Diablo III-branded Switch to complement the release. That means there's a precedent for Blizzard-Nintendo deals with exclusive merchandise, and bringing Overwatch to Switch might be greatly beneficial to both companies.
It'll lower the cost of entry to Overwatch to $300, or even $200 after the release of the Switch Lite on September 20. Currently, the game requires a $400 console or even pricer PC to play.
The partnership could also boost Overwatch's fanbase, which appears to be stagnating. Activision-Blizzard does not report active users for individual titles, but the company reported its games brought in 32 million monthly active users throughout the first half of 2019 during an August earnings call.
The company has invested millions in the Overwatch League, with a total prize pool of $3.5 million awarded to teams in its inaugural 2018 season. A Switch partnership could get more gamers interested in the shooter.