5 Best Anti-Aging Creams for Men
Take control of your skin's future with these awesome anti-aging products for men.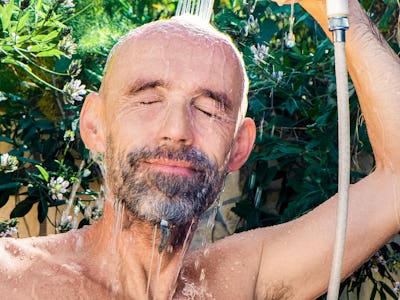 Unsplash / christian buehner
No matter how great your skin looks today, it might not look so great next year. Instead of freaking out about the future of your skin, I urge you to shift your focus to preventative care. That's right—just like you have to get regular teeth cleanings, eye exams, and physicals to prevent health problems down the line, you have to start taking good care of your skin now, if you don't want to have problems later.
You probably already wash your face, so you're already in one way or another familiar with keeping up a skincare regimen. With the simple addition of the right product to your existing routine, you can go from wondering what your skin will look like in a few years to preserving the good genes you already have. It doesn't have to be difficult. Next time you go on your regular Amazon shopping trip, consider adding one of these awesome anti-aging creams for men.
Why We Picked It: Not only is this daily oil-free moisturizer super affordable at under $10, it's also enriched with Broad Spectrum Sunscreen SPF 15 to protect you from skin damaging UV rays and retinol to reduce and prevent the appearance of fine lines. It's that easy. Apply it in the morning after you wash your face and you're good to go. In 15 years, people will be asking you how you look so good.
Why We Picked It: Popular on Amazon, this anti-aging cream for men has maintain a solid average of 4.5 stars from over 930 reviewers. Using a proprietary blend of all-natural ingredients to provide a powerful moisturizing effect that lasts through even the driest months of the year, Brickell Men's Revitalizing Anti-Aging Cream for Men will energize dry skin and smooth away even the deepest wrinkles and lines.
Why We Picked It: Usually Retinol strengths like these are reserved for prescriptions for the hard-to-get-to dermatologist. While you should still make time to see a skin professional at some point in your life, Chamuel's maximum strength retinol moisturizer is safe and gentle enough to stand up to regular use and fight signs of aging while also working to clarify your skin and reduce acne, hyperpigmentation and scars. It's 100% free of additives.
Why We Picked It: At only $8, this daily face cream from legacy brand, L'Oreal Paris is available in a single pack, a 2-pack and a 3-pack all for well under $30—that's how much some face creams cost for 1 fluid ounce. Formulated with Pro-Retinol and Par-Elastyl, these two super ingredients work together to combat wrinkles and sagging while also working to hydrate your skin deeply so you stay looking your best longer.
Why We Picked It: If you're the type of guy that likes to stock up on his favorite product and wants the favorite product to have only ingredients you can pronounce, look no further than this awesome anti-aging cream from RUGGED & DAPPER. Designed to be non-irritating yet still highly effective, this all-natural skin cream combines botanical hyaluronic acid—this year's "it" ingredient!—with aloe vera, jojoba oil and shea for deep moisture penetration that can be used as daily and as an after shave.