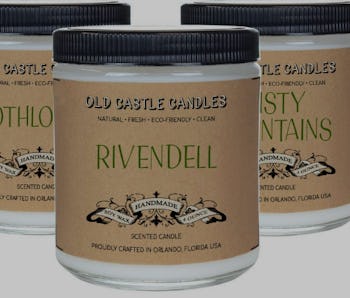 5 Anniversary Gifts You Can Buy on Amazon That Are Perfectly Nerdy
Watch them melt into a total fangirl/boy puddle.
Amazon
When it comes to celebrating love, sometimes flowers, candy, and jewelry does it. And then sometimes, gifts like that barely do it any justice. When you are in real love and really know a person, you know fancy gifts aren't the way to their heart. It's all about speaking to who they are as a person—more importantly who they are as a person to you. This is especially true of self-identified nerdy couples. Truly the salt of the earth, nerdy couples indulge in each other's quirks and passions. So instead of getting your nerdy other half a generic bouquet of roses, why not get them something a little more personal?
This collection of gifts are just a few examples of how nerds can show they care. Everything we curated for this is specifically gender neutral, so whoever you're buy for, we know that they'll love their gift. Check out some of the nerdiest, sweetest things we could find on Amazon that we're sure your S.O. will geek out over too.
For the purest of nerds out there, this unisex watch is a great way to gift jewelry with a little personality. Einstein's theory of relativity is gorgeously captured in this hypnotic watch face. Instead of the hands moving the face itself does, proving that time is in fact relative. Plus, the sleek gray leather band is perfect for matching with any outfit, whether your partner dresses masculine, feminine, or neither!
If they don't like Star Wars can you even date them? All kidding aside, this classic nerdy film has no shortage of "merch" to choose from. However, this customizable paper craft definitely will be something unique. The shadow box can feature a 3D paper Millennium Falcon or X Wing Fighter. Default text reads "I Love You to the Death Star and Back" but it can be personalized with another romantic pun like "You're the Obi Wan for me", "Til Death Star Do Us Part" or the now-famous quote "I Love You, I Know." Add names and your anniversary date, and boom! You'll have a forever keepsake that's much cooler than a card.
No matter how you feel about the ending of Game of Thrones, this Tyrion Lannister quote will forever be one of the best lines in TV history. This etched beer glass is a great gift for any diehard GOT fan, and it even comes with a "hand of the king" bottle opener.
Make your shared Hobbit hole a homey one with these soy wax candles. This Lord of the Rings inspired candle set comes with three four-ounce soy wax candles named after some of the most beautiful parts of Middle Earth. Rivendell smells like a "combination of orange, peach and sandalwood," Misty Mountains gives off a "blend of cool mint, spruce and cedar wood," and Lothlorien has an "amber, sandalwood, and violet" scent.
Nestled in a sweet gift box, a wearable replica of Dr. Who's pocket watch is perfect for the Timelord of your heart. It comes with a watch on a chain, as well as a pendant that gives a subtle nod to the classic series so your beloved can wear itin public wth nearly any outfit.